Article content
Three weeks into the 2023-24 season, Edmonton Oilers have made their second official roster move. The first came when the club signed professional tryout Adam Erne to a one-year NHL contract on October 13. The second? That Erne has been placed on waivers today for purposes of reassignment to Bakersfield Condors.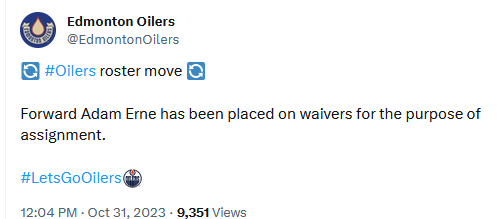 Article content
That assignment is dependent on Erne's clearing waivers, which is highly likely. Whether he does or not, he's been cut from Edmonton's roster effective noon Wednesday, opening a spot for a recall that will surely also be announced at that time.
Article content
Erne dressed for 6 games as an Oiler, posting no points and -1 in about 8 minutes a night.
Seems like the obvious choice is to recall AHL Player of the Week Raphael Lavoie, doesn't it? Not so fast, cautions the reliable Daniel Nugent-Bowman of The Athletic: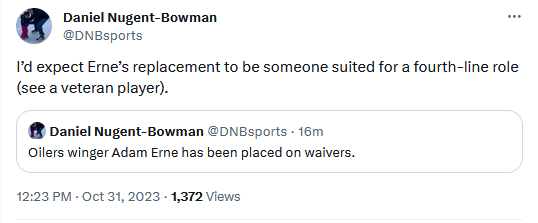 Several possibilities as to who might be recalled in Erne's stead.
LW Raphael Lavoie, 23, was controversially waived and subsequently cleared just before the season. The big right-shot winger has been the hottest of the red-hot Condors, leading the squad in goals (4), assists (3), points (7) and shots on goal (27, literally double any teammate). Lavoie's next NHL game will be his first.
C Lane Pederson, who impressed many in the preseason. The 26-year-old right shot pivot has 71 games of NHL experience with 4 prior teams. Pederson had a strong start with 2-2-4 in 4 games, but left Friday's game with injury and did not play on Saturday. His status is unclear,
C James Hamblin, 24, is another strong starter who has posted 3-2-5 and a team-best +5 through 5 GP. The speedy pivot played 10 games with the Oilers a year ago.
C Brad Malone, 34, is now in his seventh season in the organization, having been recalled to the big club in four of them (41 GP, 217 NHL GP overall). The long-time captain of the Condors brings grit and penalty-killing to the equation, though not a lot of speed. Through 5 games in Bako, he's posted 1-2-3, +2.
F Sam Gagner, recently signed to an AHL contract that would need to be upgraded to facilitate a return to the NHL. Coming off double hip surgery, Gagner had a PTO with the Oilers but was unable to participate in any preseason games. A veteran of 1015 NHL games, over half of those with the Oilers during two previous stints with the team, the 34-year-old has gotten off to a flying start in Bakersfield with 1-4-5, +4 in just 3 games, all wins. Originally a centre, Gagner has migrated to the wing in recent years and projects at that position. His own verbal is that he is skating better than he has in some time.
Article content
In part, the choice will depend on the health of Connor McDavid, who wasn't on the ice for practice Tuesday morning. The good news, according to Sportsnet's Mark Spector, is that this was "just a maintenance day", unnerving as that may be for the superstar who missed the 2 games leading up to last Sunday's Heritage Classic.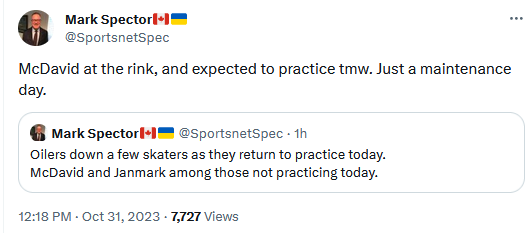 Best-case scenario is that McDavid will be good to go vs. Dallas Stars on Thursday, in which case any of the players listed above might get the call.
Best guess here? Good ol' Sam Gagner.
Recently at the Cult of Hockey
STAPLES: Who has been the best Oiler's d-man so far this year?
McCURDY: Player grades for Heritage Classic stomping of Flames
LEAVINS: All systems go for McDavid in Heritage Classic — 9 Things
McCURDY: Oilers should be fine once they start using their feet, hands, heads
STAPLES: Player grades as Oilers lose another downer to the Rangers