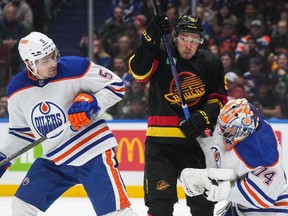 Article content
VANCOUVER — All it took was just under three-and-a-half minutes for the Edmonton Oilers to come undone and the Vancouver Canucks to surge to victory.
The Canucks scored three goals in the first period, after being outshot and falling behind, to beat the Oilers 6-2 and rise to a fourth consecutive NHL win.
Article content
Thatcher Demko stopped 40 of 42 shots for Vancouver (9-2-1), while Stuart Skinner stopped 29 of 35 shots for Edmonton.
Article content
"They came out to play. They had some grade-A chances and (Demko) was there for us," said Canucks head coach Rick Tocchet. "Demmer is like a smelling salt. We woke up after Demmer made about I don't know five, six, seven unreal saves and then we started kind of to wake up."
The Oilers (2-8-1) came out fast and aggressive on the forecheck in the first frame with Matthias Ekholm opening the scoring on the power play 6:42 into the first period, burying it glove side on Demko.
They ran up 19 shots to Vancouver's two in that period with Demko forced into a series of saves as Edmonton's top two lines unleashed a barrage of shots on his net.
Canucks captain Quinn Hughes was quick to praise his netminder after the game.
"We were a little slow out of the gates and (Demko) was able to keep us in it and made some timely saves and then I thought in the second and third, we took over," Hughes said.
Hughes scored his fifth goal of the season and added three assists in the rout. He leads NHL defencemen with 20, ahead of Victor Hedman in second with 14.
The Oilers' opening goal opened the floodgates for the Canucks, who scored three quick goals after going nearly seven minutes without registering a shot.
Article content
The Oilers were repeatedly undone by leaving Canucks players open in the slot, allowing unchallenged shots on Skinner.
Hughes scored the Canucks first goal of the game, and his fifth of the season, after his shot was diverted past a stranded Skinner by Vincent Desharnais' skate. Pius Suter followed that nearly two minutes later after Dakota Joshua floated a pass to the Swiss forward who was wide open for a wrist shot.
Brock Boeser added the third in the rush seconds after going on the power play. The initial shot from J.T. Miller was blocked by Skinner with Boeser on hand to bang it in for the third goal in three minutes, 22 seconds.
"We all knew that they were gonna come out hard and I thought we weathered the storm pretty well and (Demko) made some big saves for us," said Boeser, who added a second goal to wrap the game up in the third period.
The Oilers got one back midway through the second by Leon Draisaitl after Demko went to leave the puck for Mark Friedman only to get tripped by an onrushing Dylan Holloway, leaving his net wide open.
But the Canucks restored their two-goal lead after a breakout led by Sam Lafferty, whose shot was blocked by Skinner but Nils Hoglander buried the rebound from the slot.
Article content
Tocchet praised his team's discipline but maintained they were not taking wins for granted.
"It obviously gives us confidence, they're (Oilers) a great team," he said. "They were favourites at the start of the year. We kind of built our identity the last couple of months, and we need as much cushion as you can get. We can't rest on this."
Edmonton's stars grew increasingly frustrated as the game wore on, with Connor McDavid cross-checking Miller before going to the penalty box minutes later for roughing. Draisaitl was handed a 10-minute misconduct during the same sequence.
"For whatever reason, they're going in," said McDavid about the goals his team is conceding. "They're going in off us, they're going in every which way. Yeah, don't have many answers on that one."
Ekholm agreed with his captain, adding that his team needs to keep working to eke out a win in any way it can.
"We have to work even harder to get rewarded and that's just where we're at right now. It's a frustrating part and I don't think I've ever had a worse start to a season in my career," he said.
Adding to the loss, Oilers head coach Jay Woodcroft was given a two-minute bench minor for unsportsmanlike conduct and tossed from the game at 13:13 of the third period.
Article content
But Woodcroft defended Skinner's goaltending, saying the issue comes from the team as a whole, not an individual player.
"You can't script perfect hockey games," Woodcroft said after the loss. "Sometimes another team's goaltender stands on their head and you give up a few mistakes and it ends up in the back of the net, whether that's a goaltender or a player. We can collectively be better."
UP NEXT
The Oilers continue their three-game road trip by heading to California to take on the struggling San Jose Sharks on Thursday.
The Canucks visit the Ottawa Senators on Thursday.
This report by The Canadian Press was first published Nov. 6, 2023.