Article content
That's the definition of "good news, bad news" in the same headline, isn't it? The fact that the breathtaking Connor McDavid will miss any time at all is a bummer for all who love who love the sport; at the same time, that's a relatively manageable amount of time in the world of hurt that is sports injuries.
Timing is not good for the team he captains, the Edmonton Oilers. Just as the squad prepares to celebrate its second Heritage Classic, there is every chance the NHL's leading light will not be available to play that feature game in front of ~60,000 fans, a further bummer. There is, however, a sliver of hope on that front:
Article content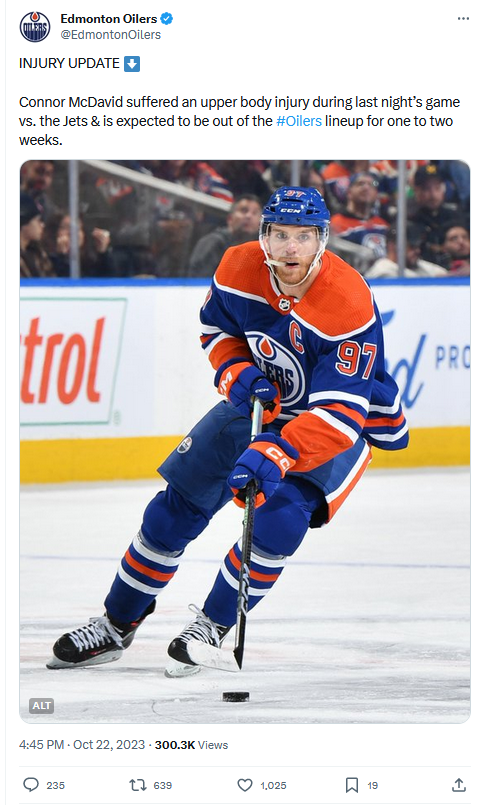 …in that the club's announcement of his expected absence of "one to two weeks" was issued exactly one week and 15 minutes before next Sunday's puck drop at Commonwealth Stadium. McDavid's a proven quick healer and will be itching to perform on that giant stage. On the other hand, the obvious corollary is to err on the side of caution and ensure he's fully healed or at the very least, safe from aggravating the injury, whatever it is. "Upper body" doesn't tell us much, but it was clear that McDavid was favouring his right side just above the hip, possibly an oblique strain.
It's been a rough run of games for McDavid, who was blasted by friendly fire from the point at Nashville on Tuesday, was involved in a worrisome collision with another teammate at Philadelphia, and then suffered whatever it was that took him out of Saturday night's game. Around the same time, he stopped shooting the puck: 0 shots (for just the 6th time in the last 6 seasons) at Philly, then just 1 vs. Winnipeg that featured a couple of head-scratching passes from great shooting position. I would speculate that he's been dealing with something for at least a few days, and it was getting worse instead of better. Sure hurt to lose him with 5 minutes to go in a tie game.
Article content
Which leads to the other part of the problem. It's not like the Oilers have cruised out to a hot start and have a little, you know, breathing room. Instead, the locals have a woeful 1-3-1 mark that already sees them 9 points in arrears of their putative rivals, the Vegas Golden Knights. With a whole bunch of teams in between. So the club is in no position to drop a few more games, even as the hill just got a little steeper without their captain for a while.
Thankfully, key players on the club have a prior experience on which to draw. In February of 2020 he suffered an LBI that sidelined him for exactly 2 weeks, this at a time that the playoff race was really heating up. The Oil had finally crawled above the postseason cut line at 29-20-6, but there was no room for any kind of sustained losing streak.
Fortunately, the Oilers had — and have — another superstar more than capable of assuming the role of leading light. That of course is Leon Draisaitl, who that February of 2020 took charge of things for a couple of weeks, scoring 4-8-12 (on 18 Edmonton goals) while averaging 25:01 per game. The Oilers didn't win all of those games, but they won 3 of them, and Draisaitl was first star in all 3. Overall the squad posted a 3-2-1 mark, more or less "Bettman .500", cofortably enough to sustain their momentum towards a playoff spot that would only be compromised by the COVID stoppage weeks later and the bubble playoffs months after that. But nobody knew of any of that during the McDavid injury, of course, just that the circumstances called for someone to step up… and someone did.
Article content
Draisaitl likely clinched the Hart Trophy during that 2-week span that he was unquestionably Edmonton's main man, but in fairness the whole team responded to the challenge. They held opponents to 3 goals or fewer in all but the last of those games, a 5-3 home loss to Minnesota Wild, the same team that will be in town on Tuesday night as per happenstance. And even sans 97 they still had enough scoring power to score 4+ goals in each of those 3 crucial wins.
Score 4, hold the other guys to 3 or less is a pretty good way to win hockey games. In 2022-23, Oilers posted a 40-4-3 record in games they scored 4+ times, and went 42-7-4 when holding the bad guys to 3 or fewer. The team was able to accomplish both objectives in 32 different games, all of them wins by definition.
This young season? 5 games in, just a single outburst of 4+ goals, which they won. Twice, they've held their opposition to 3 or less, with a 1-0-1 record in those games. In the lone win, both objectives were accomplished, a 6-1 triumph at Nashville. Saturday night's 3-2 OT loss at least salvaged a point. The other 3 games, the opposition got to 4 and the Oilers didn't.
Article content
That obviously has to change, with or without Connor McDavid. If it does turn out to be another 2 week recovery and a 5-6 game absence, the Oilers don't need to win them all. 3-2-1 or equivalent would be just fine. But a second run of 1-3-1 would leave the squad in a serious hole just 10 games into the season. The pressure is on. Already.
Roster concerns
Thankfully, McDavid's injury is not serious enough to warrant a transfer to Long Term Injured Reserve status. What that means though is that his cap hit remains on the roster, which remains restricted to just 21 players, including McDavid. Just 20 players available to Jay Woodcroft on Tuesday. Woodcroft will be obliged to remain in the 11F/7D format for a while. Adam Erne will draw in to McDavid's "spot" on the game sheet. With due respect to Edmonton's latest successful PTO, that's not a good exchange for the local squad.
Erne is also in the most precarious position should Ken Holland decide to call up (or claim on waivers) a different player, possibly a centre. Point being the Oilers cannot add a contract without subtracting one, meaning the harsh restrictions of a 20-man roster for awhile. Whether Erne is the 20th man or someone else, there's no room for "both".
Article content
Should someone else get hurt, the club would have to play a man short for one game. After that, they'd be allowed an injury replacement by a minor leaguer making within $100,000 of NHL minimum (which is pretty much everybody with an NHL contract on Bakersfield Condors). Happened a couple of times last season, with Devin Shore being the most notable member of The Replacements.
Pretty much any short term injury would have similar roster implications, but the fact it's the captain and leading light puts that much more pressure on everyone else to stand up and be counted. Which would be a welcome development to say the least.
As my Cult of Hockey colleague Kurt Leavins wrote this morning in his popular Sunday column "9 Things":
But for however much time this may cost McDavid (and hey, he may be right back at it next game) you have little choice but to take the next-man-up mentality. Each player has to do their very best work with every second of McDavid time that they are asked to absorb. And this Edmonton club is deeper than past ones.
In the short term, a team can get a bit of a bounce from an unfortunate situation such as this. For those players, it can be an opportunity to fill bigger roles and show their worth. Ryan Nugent-Hopkins can capably swing into the 2C slot for a period of time and Ryan McLeod becomes even more important.
Article content
I'd add, "and Leon Draisaitl can capably swing into the 1C slot for a period of time", just as he did in 2020. He's to McDavid what in another time, Mark Messier was to Wayne Gretzky. Or what Geno Malkin has been to Sid Crosby, for that matter. A high-calibre second fiddle who is ready, willing and able to play the lead part when circumstances dictate.
It's an interesting, challenging time for the Edmonton Oilers. The team has started on a downswing, suffering a couple of blowout losses on the road and finding ways to blow early leads in both their home games. A few guys who missed time in training camp have been a bit slow coming around, as have a couple of vets who suffered more grievous injuries last season.
Now Connor McDavid is hurt, and the time for everyone else to raise their game is right now. It's a huge early test of the club's mettle; passing it would be a giant step towards the ultimate goal.
Recently at the Cult of Hockey
LEAVINS: Answering some burning questions about McDavid's injury — 9 Things
STAPLES: Oilers can not sustain lead in Game 5 loss to the Winnipeg Jets
McCURDY: Kane's play has become a major concern
STAPLES: Player grades from poor performance in Philly
STAPLES: You'll never guess the Oil's top winger in 2023
McCURDY: Predator Draisaitl hunts his prey in Nashville