Article content
This in from Tony Brar of the Oilers, the team's projected line-up for tonight's game against Seattle.
Kane – McDavid – Brown
RNH – Draisaitl – Hyman
Foegele – Pederson – Lavoie
Erne – Janmark – Ryan
Article content
Nurse – Bouchard
Gleason – Ceci
Broberg – Desharnais
Campbell
My take
1. The top stories of the Oilers preseason? Jack Campbell looking like a new goalie. Connor Brown hustling around the ice like he's 100 per cent ready to go. And unheralded AHL veteran Ben Gleason standing out as Edmonton's best d-man of the preseason, I kid you not.
Article content
2. Gleason is no longer a prospect. He's 25 years old. He's been in the AHL for five seasons already, all of them with the Texas Stars, Dallas' farm team. He's played just four NHL games, all of them five years ago for Dallas. He signed here this summer as a free agent, with many fans and pundits wondering why the Oilers needed another puck-moving AHL vet, as the team had already acquired Cam Dineen in a trade. Yet Gleason is also at an age where many pro d-men finally reach their early peak, having the smarts and experience to know the game inside out, and start to play exceptional positional hockey. And that's exactly what Gleason has done in Edmonton.
3. Gleason has been on the ice for eight goals for at 5-on-5 so far this preseason, more than any other NHL player. He's only been on the ice for one goal against at even strength. Of course, this is just preseason, so we only put so much weight in that stat, but it's nonetheless encouraging. It also matches up with the eye test, as Gleason has looked sound out there. He's smart with the puck. He's best passing it, but can also skate with it. He can put pucks on net. He's not been perfect on defence, and he's had a few scary moments of his own making, but generally he's held his position and made most of the plays. He's no Big Bobby Clobber, but he gets the job done.
4. If Gleason doesn't make the Oilers out of camp, he'll most certainly be the first call-up from the AHL. Veteran Matt Ekholm was on the ice this morning, so he's on his way back from injury. Maybe there won't be room for Gleason. But he's finding a way to kick down the door.
Staples on politics
The Top 5 hair-on-fire topics to avoid this Thanksgiving (and one you might safely broach)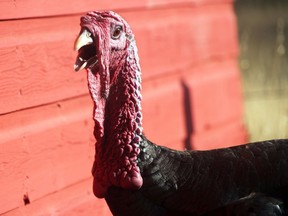 Share this article in your social network