Reviews and recommendations are unbiased and products are independently selected. Postmedia may earn an affiliate commission from purchases made through links on this page.
Article content
Cave Paintings: Painter Jensen Kimmitt draws from the cut-up technique pioneered by the Dadaists and popularized by hip-hop music production — colourful, melodic abstraction is sampled, chopped up and rearranged to make a visual foundation and layers of marks are added to provide a pocket where the densely structured line work can rest as visual poetry.
The painter feels an instinctive link to humankind's first artists, hence the show's title, and will be at the 6–9 p.m. opening Friday to talk about his ideas and work.
Article content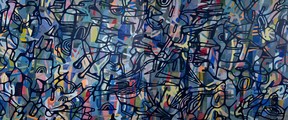 Details: Runs through Nov. 4 at dhARTworld (12030 Fort Rd.), no charge
---
Blackout Over Rio: Featuring complex compositions, explosive soloing, compositions featuring global instrumentation and dynamic improvisatory interaction, this four-piece finds inspiration in the Tony Williams Lifetime power trio, John Coltrane's free-jazz period, Larry Coryell and space-rock groups such as Hawkwind and Ozric Tentacles. Will Northlich-Redmond plays guitar and percussion, Nico Arnáez is on bass and laptop, Mark Segger drums and Allison Balcetis is on reeds. Sweet mayhem!
Article content
Details: 8 p.m. Friday at Yardbird Suite (11 Tommy Banks Way), $17 at yardbirdsuite.com
---
Strange Way of Life (2023): In this new Pedro Almodóvar short western drama with Jake (Ethan Hawke) and Silva (Pedro Pascal) as two gunslingers who reunite after 25 years.
They celebrate the meeting — but the next morning, Jake tells him that the reason for his trip is not to go down the memory lane of their friendship. This shorts double feature is also showing Almodóvar's 2020 film The Human Voice, where a woman (Tilda Swinton) watches time passing next to the suitcases of her ex-lover (who is supposed to come pick them up, but never arrives) and a restless dog who doesn't understand that his master has abandoned him.
Article content
Details: 9:30 p.m. Friday, 7:30 p.m. Saturday and 9:30 p.m. Tuesday at Metro Cinema (8712 109 St.), $14
@fisheyefoto