DIY-influencer and artist Bree Tetz offers tips and tricks to design courageously with the unique items that brings you joy.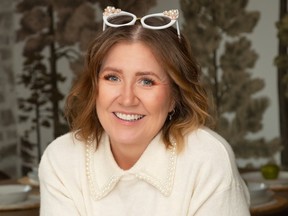 Reviews and recommendations are unbiased and products are independently selected. Postmedia may earn an affiliate commission from purchases made through links on this page.
Article content
Bree Tetz of Sherwood Park retired from a stressful career when her inner artist began calling to her. Loudly. Heeding that voice led her to become a successful designer, DIYer and social media influencer with almost half a million followers on Instagram, Tik Tok and Pinterest.
Her tips and tricks with painting, upcycling, building, designing, crafting and sometimes, her awesome dance moves on her @mylittleblackandwhitehouse channels (see here) resonate with her audiences.
Article content
"I didn't start out to be an influencer. We were just designing and renovating our first home and wanted to show our progress. It just snowballed from there," she says.
A designer by day, an artist by night, Tetz's talent shines through the funny moments shown in her videos. "I'm transparent and when I'm weird, I'm weird," she says. She is adept at designing spaces using second-hand, thrifted and curated pieces. Combing the old with the new is one of her superpowers.
"For example, I have a brass lamp on a table in a corner that used to be my grandma's. I styled that whole corner around that lamp, creating visual interest. There's no right or wrong way to do it," she says. "I have some quirky things in my house, but they represent me."
Tetz is a Main Stage presenter at the Edmonton Fall Home Show, running Oct. 13 to Oct. 15 at the Edmonton Expo Centre. Her goal is to inspire audiences to find their own true design style with her presentation, the Curated Collected Home.
"A curated collected home isn't a design style. It's about surrounding yourself with things you love and treasure. It's not a trend. It's not instant where an interior designer can just come in and arrange it all for you. You define your style and start collecting things that you love. It takes time," she says.
Article content
That style can include sentimental items collected on travels or passed down by family members. Each item has a story and a history. "Your style becomes those things," she says.
Her Main Stage presentation will also include ideas and resources on where to hunt for collectible items, like antique stores, garage and estate sales. Swapping items with friends is another budget-friendly thing people can do.
Tetz's latest personal yet very public project is the bathroom of her home where she is following her own advice of mixing the old with the new. She's turning an old dining room buffet into a vanity and adding a 1970s gold mirror, a swag lamp and vintage-inspired wallpaper.
"It's eclectic, although I don't like using that word eclectic because it doesn't necessarily define a style," she says. "Each and every piece that I have gotten for that room is stuff I love and because I love it all, it works."
Tetz and the Curated Collected Room will be on the Main Stage on Oct. 14 at 3 p.m. and Oct. 15 at 2 p.m. For other feature presenter show times and to buy tickets online, visit edmontonfallhomeshow.com.