Article content
Edmonton Oilers took to the ice at Amalie Arena in Tampa Friday morning, in preparation for Saturday afternoon's contest against the Lightning that kicks off a four-game southeastern road trip.
Big news in the person of RW Connor Brown, who took reps on the first line at Friday morning's skate. He then led the post-practice stretch, a near-certain sign of a player who is set to re/join the line-up.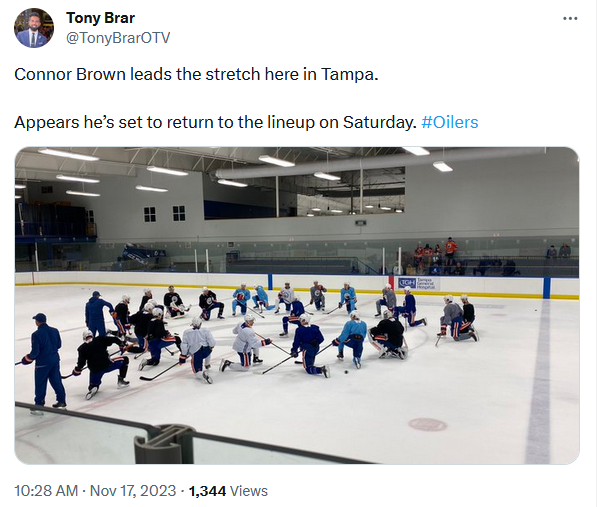 Article content
Brown's next game will be his tenth of the season, thus triggering the signing bonus that was a major clause in the one-year contract he signed back on Jul 01. The $4.00 million pact will pay him the NHL minimum of $775,000 for the current season, with the rest due in the form of a $3,225,000 bonus that becomes payable once he plays 10 games. Said bonus will count against next season's salary cap, a work-around that in theory allowed the Oilers to add a top-six forward at a fourth-line price, at least in the current campaign.
Make no mistake, the Oilers needed — and still need — a top-six calibre forward, specifically at right wing. In Connor McDavid, Leon Draisaitl, Zach Hyman, Ryan-Nugent-Hopkins and Evander Kane, the club had five forwards in the $5+ million range, but no in-house solutions to join them. In the prior 18 months Holland had been forced to trade out three different RWs — Zack Kassian, Jesse Puljujarvi, Kailer Yamamoto — whom he had previously signed to contracts of $3.0 million AAV or above, all for salary cap reasons.
What remained was a smoking crater at right wing below Hyman (himself converted back from LW), and no cap space with which to fill it. The Brown signing was an elegant solution for the current season, even as it left >80% of the price tag for next season when the cap is expected to rise significantly.
Article content
Recovering from a devastating ACL tear that cost him all but 4 games in the 2022-23 campaign (and which opened the door for a contract of this structure), Brown got off to a somewhat predictable slow start, though surely nobody could have predicted quite how slow. When he left with a leg issue midway through Game 9, not only had the 29-year-old winger not found the scoresheet, he hadn't even been on the ice for a single Edmonton goal. His boxcar stats of 9 GP, 0-0-0, -5 left many fans feeling cold about whether he should ever get that 10th game.
A fortnight has passed since his last appearance, opening wide the window for that discussion to take hold. "What Would Vegas Do?" the most vocal critics asked, with the implication being they'd cut the player loose without a second thought.
There was zero chance this was going to happen in Edmonton. This was a contract negotiated in good faith, with Edmonton GM Kem Holland on one side of the virtual table and Brown's then-agent Jeff Jackson on the other. Jackson was subsequently hired by owner Daryl Katz as the Oilers' CEO of Hockey Operations. The suggestion that both men would essentially team up to stiff a respected NHL veteran might have sprouted wings in some corners, but in the real world it was never going to fly. Not Ken Holland's style, and unthinkable from Jackson's perspective unless he doesn't mind sewering his reputation, never mind that of his team which may … wait for it … wish to attract other free agents some time in the future. That $3.225 million bonus is a problem, but it was designed to be next year's problem, and there it will remain.
Article content
The key fact is that Connor Brown still represents a solution for this year's Oilers. The slow start is something of a mirage, as those empty boxcars mask some pretty decent flow-of-play results. Playing primarily on a line with Ryan McLeod and Dylan Holloway, the puck was frequently moving in the right direction even as it never once found its way into the opposition net. Simply put, all three men were shooting blanks. Brown's play was starting to come around: as per Natural Stat Trick he mustered just 2 individual high-danger chances through 6 games, then produced 7 in the 2½ games preceding his injury. But he simply could not buy a goal, nor an assist for that matter.
On the season, Brown currently ranks #1 among Oilers forwards in shot metrics like Corsi (64%) and shots on goal (62%), but dead last in goal share at 0%. In that last key category he's tied with all 3 members of last game's fourth line, Adam Erne, James Hamblin and Raphael Lavoie, whose respective shot shares of 34%, 41% and 43% reflect the fact that the play has been going the wrong way when they've been out there. Brown's do not.
Article content
While many pundits who follow the team projected Brown's return in a third line role with McLeod and Warren Foegele, Friday morning's practice saw him right at the top of the food chain.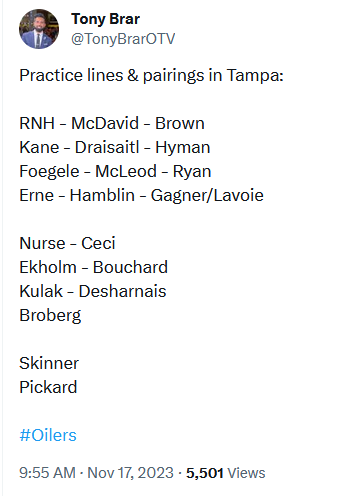 Assuming Brown is physically ready to go, it's a defensible decision. Immediately upon taking over the bench, Kris Knoblauch made a point of teaming up McLeod and Foegele as the core of his third line, after both men had cameo'd at wing in the top six. Into that hole he inserted Sam Gagner as a placeholder, but the 34-year-old struggled to keep up, both literally and figuratively. This from our own player grades at the Cult of Hockey last game:
#89 Sam Gagner, 3. A difficult game for the vet, whose only numbers on the Event Summary were 2 giveaways. Among those beaten on the 2-1 goal. Spoiled a promising rush by mistiming the zone entry and causing an offside. Did have one fine moment with a splendid pass to Kane in the blue paint in the dying seconds of the first period, otherwise had a tough slog in 13½ minutes.
This on a night where every other top-six forward graded out at 6 or higher. Knoblauch wound up shuffling his lines in the second period, which didn't go well.
Article content
This morning Gagner found himself as an extra on a fourth line that also struggled mightily on Wednesday. All of Erne, Hamblin and Lavoie graded out at 2 or 3 in that same game, on a night that Edmonton's big five forwards powered the win. Anybody's guess which of the quartet draws the short straw against the Bolts.
So into that sixth spot goes Connor Brown, a proven two-way player who perhaps identifies first as a defensive forward. He's something of a puck hawk, annually posting a positive rate of takeaways to giveaways with a career ratio of nearly 1.5. In 457 career games he has averaged 2:13 per game on the penalty kill vs. 1:17 on the powerplay, and just under 17 minutes per game in all situations. He received Selke votes as recently as 2020-21 when he led the NHL with 5 shorthanded goals. In his short stint as an Oiler, opponents have averaged just 18 shots on net per 60 minutes, over 5 shots better than the #2 Oiler (McLeod). He's not a big-time scorer, but he can score, with a career average of 16-23-39 per 82 GP, mostly with Toronto and Ottawa.
Surely that history of two-way play and opportunistic scoring is, stylistically speaking, a nice fit for the McDavid line. Will it work in real life? It seems Oilers fans are about to find out.
Recently at the Cult of Hockey
McCURDY: Flurry of moves provide much-needed roster flexibility
STAPLES: Campbell's woes continue in AHL
STAPLES: Lavoie sent down. What is coming next?
STAPLES: Worst of luck: Holloway likely be out longer term
LEAVINS: Player grades in Knoblauch's first win vs Isles