'We'll learn from it. Sometimes it's good to get smacked a little bit and get back to working and do the little things'
Article content
It was one of those games that should have been flushed the moment the Edmonton Oilers got back on the plane.
Except there was still a lesson in humility to be learned following an 8-1 loss to the Vancouver Canucks to open the season Wednesday.
Article content
The Oilers came into the game riding sky-high expectations from both their fan base and oddsmakers, who have them entrenched in the early Stanley Cup conversation.
Article content
But the team couldn't have fallen any flatter on its face while taking its initial step onto the ice.
1-0.
2-0.
3-0.
And Vancouver made it 4-0 on their 16th shot to chase Jack Campbell from the Oilers net, before Leon Draisaitl scored on a one-timer from Connor McDavid on the power play for Edmonton's lone goal of the game — a brief pause before being buried by another four Vancouver goals.
But there would be no flushing and forgetting this one for the Oilers, who returned home to a scheduled autograph-signing session at the West Edmonton Mall amid hordes of fans the following day.
And none of them could have been blamed for wanting to share concerns with the players over how things started out.
"No, very positive actually. Surprisingly," Draisaitl said following Friday's practice at the Downtown Community Rink. "I was a little nervous the first 10 minutes there, but all love. And I'm very appreciative of the fans."
After all, one game does not a season make. No matter how bad. And, if anything, it has shown them the city is quite literally ready to stand behind the team through thick and thin again this year.
Article content
"Understanding and seeing how happy people get and how long they stand in line is quite crazy," Draisaitl said. "It puts things in perspective sometimes. They get 15 seconds with us and for that they stand in line the entire day, pretty much.
"So, we've got the best fans in the league. We know that."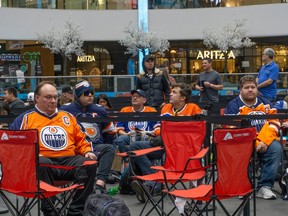 They also know Saturday's rematch against the Canucks at Rogers Place better match more closely with those early expectations and less like whatever that was on display on the ice Wednesday.
"It's just not our standard. It's not the way we approach the game and certainly not the way that we play or the culture that we've created over the last couple years," Draisaitl said. "It's behind us. It happened. We'll let it go, learn from it and we'll be better tomorrow."
And it will start, he said, with showing their competitiveness early on.
"I don't think we get enough credit for how competitive we are as a team," Draisaitl said. "A lot of people always talk about our skill, and that's fair, of course. But we put in a lot of hard work, we're a really hard-working team. So, I think once we get back into that we'll have a lot of success.
Article content
"But obviously, it's work to put in effort and it's work to grind. And it's supposed to be hard, so we'll be better tomorrow."
In an 82-game schedule, a blowout loss or two can happen to even the most consistent teams out there. But under the spotlight of the season-opener, things tend to get magnified.
"Definitely, it felt strange," Draisaitl said. "Again, not our standard. It happened, but obviously we have to make sure that we respond and clean up the things that need to be cleaned up.
"Sometimes you need those moments, you know? Obviously, we didn't want that to happen, there's no doubt about it. But it did and we'll learn from it. Sometimes it's good to get smacked a little bit and get back to working and do the little things."
Related Stories
For starters, Edmonton Oilers need to want it more — Jay Woodcroft

Slap in the mouth is probably a good thing for the Edmonton Oilers
The game film might not have been flushed immediately, but it sure has been by now.
"We've talked about the game, we went over it. We don't need to harp on it anymore," Draisaitl said. "We're ready for tomorrow and I think we can expect a lot more effort from the group tomorrow.
Article content
"It's about looking forward. It happened. Not ideal, not the way we wanted it to start. But we'll move on."
If the exasperation wasn't apparent on their faces as the goals against continued to mount, it ended up on display in the penalty box, where both Draisaitl and McDavid took their turn paying for needless infractions.
"Obviously, frustration kicked in last game a little bit. We took a couple unnecessary penalties," Draisaitl said. "But I'm a human being, I don't like losing. It's not like that was the first time I've ever smacked someone."
E-mail: [email protected]
On Twitter: @GerryModdejonge