Article content
No matter how one looked at it, Edmonton Oilers' performance against New York Rangers was nowhere near good enough. I can vouch for that twice over, having attended the game in person on Thursday night, then reviewed the entire contest — all 3,600 agonizing seconds of it — on PVR Friday morning.
The live experience started well enough with the celebration of Oilers Hall of Famers Charlie Huddy and Doug Weight, but turned sour once the puck dropped. The home side was second best in virtually all aspects of the game as they fell 3-0 to the (excellent!) Rangers. A chorus of boos provided the musical accompaniment to the final buzzer.
Article content
With the richly-deserved defeat, the Oilers record dropped to 1-5-1 in the young season. Their .214 points percentage ranks them 31st in the 32-team league, ahead of only the execrable San Jose Sharks (0-7-1 = .063). Likewise, the Oil's startling -13 goal differential is ahead of San Jose's brutal -24 but worse than every other NHL club. Their high-powered offence ranks a lowly 26th with just 2.43 goals per game after leading the league comfortably a season ago at 3.96 G/GP. And their 4.29 goals against per game is currently dead last in the NHL, this after finishing middle of the pack at 3.12 in 2022-23.
Just 7 games into the new season the Oilers have already lost 4 games by 3 or more goals. Doing some quick math, that's over half of their contests to date. Last season they suffered just 9 such defeats over the entire 82-game slate.
What's going on?
It's not entirely fair to judge the Oilers during the current absence of three-time Hart Trophy recipient Connor McDavid. We'll pull our punches a little though not a lot given the locals were already 1-3-1 and skating in sand by the time the captain got sidelined. His absence has has been all too apparent the last two games, when the Oilers were outskilled 7-4 by Minnesota Wild, then outclassed 3-0 by NYR.
Article content
To my eye in the end zone high above the visitors' net, Edmonton was not quick enough against NYR. The Rangers outskated the Oil, especially noticeable in transition where they generated a number of odd-man rushes and open looks. By our analysis at the Cult of Hockey, New York generated 9 Grade A shots and the game's only 2 even-strength goals off the rush while the Oilers created 5 and 0 respectively. This has been an issue at both ends of the sheet all season, in which the Oilers have been outscored 13-4 off the rush, McDavid or no McDavid.
Doesn't help of course that a few other Oilers are less than 100% physically. Mattias Ekholm and Ryan McLeod missed the entirety of training camp, and both have endured slow starts. Brett Kulak is another who has been off his game after missing the last few preseason contests. Connor Brown is playing his first games in a calendar year after ACL surgery, and has been struggling to come around in the early going.
It's not merely foot speed where the Oil are lacking. Their hands have continually let them down in frittering away opportunities. On Thursday Mattias Janmark was unable to convert an early great chance from close range. Before the first period was over, a similar fate had befallen Dylan Holloway, Evander Kane and Brown (twice). It's as if the bottom 6 forwards — Janmark, Holloway, Brown, Ryan McLeod, Derek Ryan and Adam Erne — collectively have what golfers call "the yips" around the net. All six of them have matching boxcars of 0-0-0; indeed, only Janmark has even been on the ice for an Edmonton goal. In their combined 40 GP, the sextet have 39 shots on goal, but no joy. Some of their best looks haven't even resulted in official shots, never mind goals. At this moment I wouldn't trust a one of them to sink a three-foot putt.
Article content
Another area where quickness seems to have deserted the scene is decision-making, even on the most fundamental level. On Tuesday in Minnesota, the Oilers matched a dubious NHL "record" with 3 (three) too-many-men-on-the-ice infractions in the same game. Another terrible change resulted directly in a Minny 3-on-1 jailbreak, while still another on the first line change of the third period was directly responsible for the goal that cancelled out a hard-won 3-2 lead and opened the floodgates for a 5-goal outburst by the Wild in the final frame.
If the Oilers addressed this in between games, it wasn't readily apparent. No bench minors this time, but 3 bad line changes involving 5 different players led to a trio of Rangers' scoring chances — in the second period alone!
That middle period was the decisive one, as the Rangers scored all 3 of their goals in that frame. Controlling the puck and the play in the o-zone at my end of the barn, New York absolutely shredded Edmonton with their east-west passing game. Time and again cross-seam passes led to great chances, a couple of goal posts, and all 3 goals. The Oilers are learning a new defensive system (or so I'm told), but that process isn't happening very fast either. It seemed like Stu Skinner was forced to go post-to-post a dozen times in that frame alone.
Article content
A few positives
Skinner had a strong game in defeat, delivering a number of fine saves even as he couldn't quite stop them all, as his counterpart Jonathan Quick did with a considerably lighter workload. Stu's outstanding save against a Rangers 2-on-1 in the last minute of the first to keep the game scoreless to the first intermission was, in its context, perhaps the biggest stop made by an Oilers goalie so far this season.
Kane was highly noticeable for the third game in a row, bringing a physical element that was otherwise in fairly short supply. After a dismal start to his season, Kane has been the proverbial bull in a china shop this last week, laying on the body, scrumming it up, and taking on all challengers. He's had 4+ hits in each of the last 4 games; his 28 on the season equal the total of the next 2 Oilers combined (Holloway 15, Ekholm 13). Kane has his own issues handling the puck, exacerbated by the grisly skate cut to his wrist he endured last season, and remains prone to the odd silly penalty or defensive gaffe, but his robust play is trending up.
To my eye both Kulak and Brown had their best games to date on Thursday. Kulak's game is built around his plus skating, which was on full display.
Article content
Brown meanwhile was all around the puck, and the net. In addition to the misses mentioned above, he had 2 outstanding shots on net that sparked some of Quick's best work, and led both teams with 9 shot attempts. One of just 2 new Oilers (Erne is the other), he's trying to fit in while shaking off a year's worth of rust. While many are suggesting the org move him out before his substantial bonus vests for 2024-25, such discussion is premature in the sense he's got a couple games before reaching the threshold, and progress is being made. Best guess here is that he'll stick around, and that in time Oil fans and even critics will come to appreciate his puckhawking game.
History lesson
A run of poor play is especially noticeable at the start of a season when it is the only sample we have. 1-5-1 certainly qualifies as poor, but it doesn't mean the squad will be 10-50-10 in March. They still have 75 games to play, and with 3 points in the back already need "just" 90 more to get to the 93 that typically marks the playoff cut line. That's a .600 points percentage, challenging enough but far below the .665 the Oilers recorded over 82 a year ago, or the .634 of the prior season.
Article content
Of course that assumes a turnaround from the current trajectory, and we're not seeing many signs of that just yet. But as of right now, the locals are just 4 points out of 8th place in the West. It's way too soon to panic, even as it is not too soon to be a little aggravated with the state of affairs. The team itself is certainly aware, and team leaders Darnell Nurse and Zach Hyman acknowledged it with some direct, even blunt verbal in the aftermath of the Rangers' game. Talk is cheap, of course, but recognition of the problem is the first of the 12 steps.
One doesn't have to venture far into the past to find a much more extended run of play with even worse results. In 2021-22 the Oilers endured a 6-game losing slide, all in regulation, in which they were outscored 24-9; then after winning a couple of games collapsed right back into an 0-5-2 streak in which they scored just 16 goals while allowing 33. Make it 2-11-2 for a .200 points percentage over a seven-week period that included an injury bug on the blueline, a COVID outbreak that sidelined a series of players and caused multiple postponements, and a hockey club that couldn't get it together.
Article content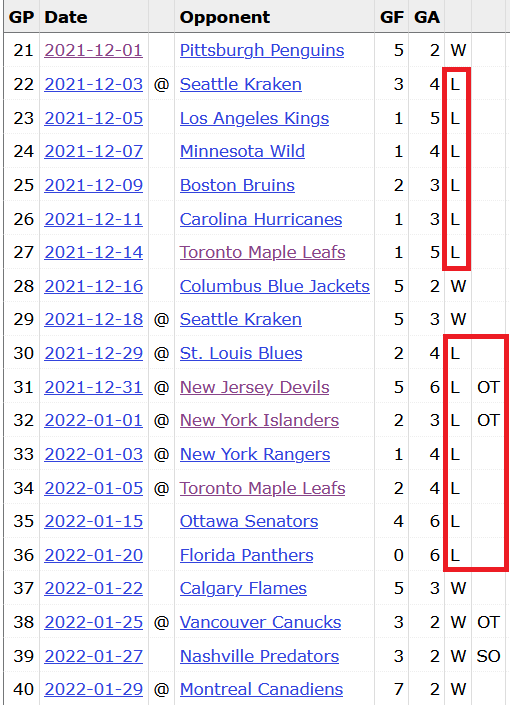 So happened I attended the last game of that ghastly slide, a 6-0 shutout loss to the Presidents' Trophy bound Florida Panthers that also ended with boos ringing in the rafters of Rogers. It was Jan 20 and the cause seemed to be hopeless.
Despite their early season cushion, the Oilers had by then fallen from first in the West to twelfth. They finally broke out of the fever with a big home win over Calgary (foreshadowing?), then returned to their winning ways on the regular. Indeed, Edmonton went 47-16-4 in the two large sections of that season to either side of that 15-game hole, ultimately finishing a comfortable fifth in the conference. They then proceeded to take out the Kings and Flames in the playoffs to make it all the way to the Conference Finals for the first time in 18 years.
2-11-2 is the equivalent of a pair of 1-5-1 runs with an extra loss thrown in. Far more serious than the current backslide, but even then it proved surmountable, even as the sked was nearing its halfway point by then.
This season? The Oilers have a proven group that has hit a few speed bumps right after the starting line. It's exasperating, but it's also far too soon to panic.
Article content
Other news
Oilers forward Mattias Janmark was wearing a sling on his right arm in photos from a team event on Friday. No word on his availability for the Heritage Classic on Sunday. If neither he nor McDavid can go, the Oilers would have to play a man short.
Recently at the Cult of Hockey
STAPLES: Player grades from shutout loss to Rangers
McCURDY: Oilers shuffle d-men for Rangers game
STAPLES: That One Big Problem that's killing the Oilers? It's fixable
LEAVINS: Player grades from poor defensive effort in Minny
STAPLES: Controversial line changes ahead of Oilers game in Minny
McCURDY: Connor McDavid to miss 1-2 weeks of action due to "upper body" injury