Through the decades, a few rival coffee roasters have grow into a cooperative scene of experts on the the art of the bean and brew
Reviews and recommendations are unbiased and products are independently selected. Postmedia may earn an affiliate commission from purchases made through links on this page.
Article content
Well before International Coffee Day was established in 2015, Edmonton was already celebrating the brew.
Go back three decades or more and you'll find Edmonton Journal articles talking about local roasters such as Edmonton's Tea & Coffee Company, Beanstock in Westmount, Grabbajabba and Java Jive. All iconic local establishments, all part of a wave of coffee shops devoted to elevating the brew beyond just morning fuel for work, with espresso, Vietnamese coffees, lattes, and fancy, new-to-Edmonton drinks like the mochaccino turning up more frequently on the menu. By 1994 the culture had grown such that the Journal published an article about a "coffee war" between The Second Cup and then new kids on the block Baraka, who opened across from their rivals on Whyte Avenue.
Article content
Now? There are plenty of roasters with accompanying coffee shops, including southside shops like Ace Roasters, NXT, Kaffa, Sorellina, Anecdote and Aspen, and downtown establishments like The Grizzlar, On the Edge and Credo. That's just the tip of the iceberg. If conversations with many of today's current roasters are true then the battles of the bean appear to have subsided. Instead, many establishments are complimentary of each other's work and, like local craft beer companies, often check in with each other. At the turn of the century, it wasn't quite as cohesive a scene as it is today.
"These days you can go to a university like UC Davis, which has both a wine and a coffee program, but back in the day you couldn't get training anywhere," says Poul Mark, owner and founder of Transcend Coffee, which opened in 2006 on Argyll. "Before I started Transcend I went to Vancouver for one day of espresso training. Now we spend probably three months training our staff before they're really ready to go."
The first few years were tough for Mark and his crew, however.
"We definitely felt like we had to create a market because people just didn't really understand what we were doing," sighs Mark, who opened three other retail locations through the years before scaling back to their spot at the Ritchie Market in 2023. "It was hard. Early on people would have described our coffee as weird because they'd never come across those flavors. We weren't roasting dark, which basically obliterates flavours. We've learned a lot in the last decade and a half."
Article content
Transcend has been around for close to two decades but it stands as one of the oldest city coffee roasters in Edmonton after the Tea & Coffee Company, which opened its doors 65 years ago under the name The Java Stop. Unlike many of the roasteries which are also coffee shops, Edmonton Tea & Coffee is now primarily a wholesale supplier, shipping out to local retail and hospitality spots around the world. They've weathered many a storm in the world of coffee, including the price hikes of the mid '80s, when Edmontonians were confronted with upwards of an extra $2 tacked on to a pound of beans.
"The smaller roasteries that have popped up in the last 10 years or so don't really have the variety of coffee we have," says Leona Huber, who with business partner Michael O'Brien bought the company in 2009. "We buy from so many countries, like South and Central America, Cuba, Africa and Indonesia. We do a lot of blends as well, and they're very yummy."
Huber doesn't recall having a eureka moment with good coffee but admits to being hooked on her own company's Highland Grogg, a medium roast made entirely of Arabica beans. By contrast, Ply Pasarj can emphatically recall the moment he realized coffee could be more than an energy booster. It was from Transcend, one of the many roasteries in competition with Rogue Wave, which Pasarj co-owns along with Dave Laville and David Walsh.
"It had this wonderful Mandarin bouquet of floral and it was like wow, so amazing, so good," says Pasarj. "That kind of got me hooked into looking at different varieties in the coffee industry."
That cup of joe clearly had an impact. Pasarj's brewing was such that he finished first at the Canadian AeroPress Championship and National Brewers Cup in 2019, and placed fifth among baristas at the World Brewers Cup in Milan in 2021. This wasn't the first time Edmonton had distinguished itself in a coffee championship; Josh Hockin of Transcend won the Canadian National Barista Championship in 2011, and Transcend itself placed second at the inaugural Canadian Cup Tasters Championship back in 2009.
Article content
Impressive credentials for both businesses, but neither Pasarj nor Mark are caught up in the snobbery that can often go with it.
"Like any industry, it's so subjective in so many ways with personal taste, and there's tons of posturing," Mark says. "Our goal along the way was to build community but also to try to make coffee more accessible. I mean, we were definitely guilty of it in the early days because we were so passionate. We were a little bit like the Seinfeld Soup Nazi, but now we're just hoping to get people excited about coffee."
Related Stories
Tasting Notes: La Prosciutteria a family affair; Vons moves downtown

Beaumont restaurant Chartier gets new lease on life
Pasarj, who in the past applied his finely-tuned sensibilities for taste and smell at an olive oil tasting room, notes that paying more attention to what you're drinking can set in motion the first part of Mark's goal.
"When you look into the coffee that you're drinking you start looking into ingredients, where it's coming from, the connections between us," he notes. "You think about the people who are growing the beans. You're also thinking about restaurants that are sourcing locally, whether Canadian ingredients or local market and suppliers. Then you see a community of people supporting people who are closer to them."
Be a barista
In honour of International Coffee Day on Oct. 1, Rogue Wave shared the recipe for one of its most popular drinks readers can make at home.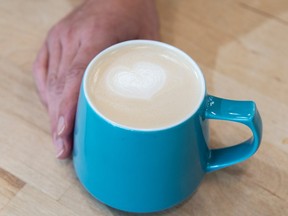 Maple Misto Coffee
What you will need:
1 cup of brewed coffee
2.5 tbsps of maple syrup
2/3 cup of oat milk
Froth the maple syrup and oat milk together. If you don't have a steamer you can use a frothing wand, or warm the oat milk and maple syrup up on the stove or in the microwave and then whisk together to create some texture. Pour this mixture over your favourite brewed coffee. For extra fun, add any sprinkle you like such as cinnamon or chai powder. Enjoy!