Article content
A look at Saturday's Edmonton weather by Environment Canada.
It's 6 C at the Edmonton Blatchford weather station Saturday morning with 17 km/h winds out of the south, southeast gusting to 32 km/h.
Article content
Dark and gloomy as winds whip and skies darken.
Or celestial, magical, hopeful.
Pick your plot. The backdrop is set.
It's not every day we get heavenly events, like Saturday's partial eclipse that should become apparent around 10:30 a.m., with darkening skies as the moon passes directly between the sun and Earth.
Article content
And it will be windy, with gusts throughout the day striking the 40/kmh range at points.
Revel in the swirl of it all or hunker down in your cozies. Thankful, I will do both.
The final act this rare day is includes fog settling in, arriving in patches overnight.
If this just sounds like misery, know that it will all pass. The sun returns, the wind drops off and Sunday's expected high is 17 C.
And still no frost in sight, with temperatures in the 16 C range for much of the week ahead.
Today's forecast
Today: Mix of sun and cloud, with wind southeast 20 km/h gusting to 40 km/h. High 14 C. UV index 2 or low.
Tonight: Partly cloudy, with fog patches developing overnight. Wind southeast 20 km/h becoming light this evening. Low 5 C.
Tomorrow: Mainly sunny, with fog patches dissipating in the morning. High 17 C. UV index 2 or low. Overnight low 3 C.
Sunrise: 7:59 a.m.
Sunset: 6:40 p.m.
Normals:
Max: 11 C
Min: 0 C
On this day (1996-2022):
Highest temperature: 20.3 C in 2022
Lowest temperature: -4.9 C in 2018
Related Stories
Partial solar eclipse Saturday, Telus World of Science offers safe watching

Red moon rising, first total lunar eclipse of 2022
Yesterday's temperature
High: 13.2 C
Low: 2.8 C
Precipitation: 0.0 mm
📸 Eye On Edmonton
This space is dedicated to some of the great and interesting photos taken by Postmedia photographers while they're out and about town.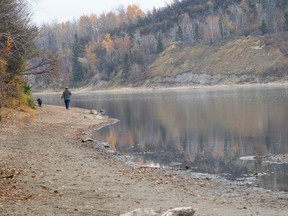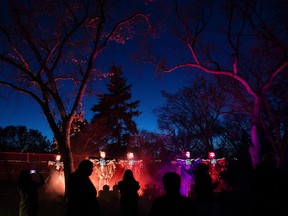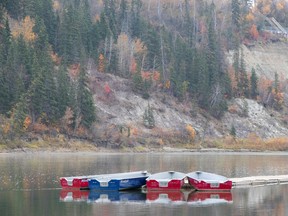 Share this article in your social network