Article content
Game Day 7: New York Rangers at Edmonton
On a night the Edmonton Oilers are honouring two of their own from yesteryear, the plight of the team in the here and now takes precedence.
Article content
Reeling from a 1-4-1 start that has seen the Oilers yield a ghastly 4.5 goals per game, the squad has just 20 players available at the moment so will dress the exact same line-up that fell 7-4 in Minnesota two nights ago. Without the availability of reinforcements from either upstairs or down south, the coaching staff led by Jay Woodcroft has only internal paths to improvement. Namely, to change the deployments of their players, who then have a straightforward responsibility of their own — play better!
Article content
Judging by today's morning skate, Woodcroft is making two key changes, both on the defensive side of the puck.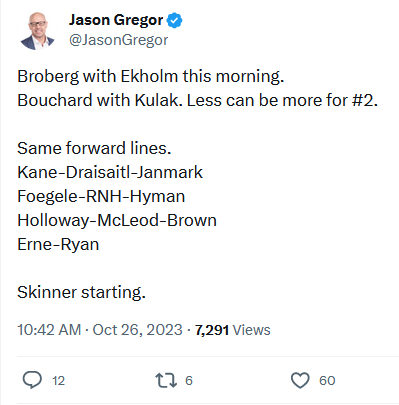 The first is in goal where Stu Skinner gets the start, his third consecutive at Rogers Place, while Jack Campbell has gotten the nod in all 4 road games to date.
The Oilers lost both prior home games, 4-3 to Vancouver and 3-2 in overtime to Winnipeg despite outshooting their opponents by a combined 80-43. Skinner, who also got torched for 4 goals in the back half of the disastrous season opener in Vancouver, is currently sporting an .814 save percentage, which ranks 54th among 54 goalies to play at least 100 minutes this season. The sophomore stopper had by far his best showing to date in the most recent of his appearances, earning the Oilers a point even as his costly gaffe resulted directly in the tying goal.
Campbell subsequently got torched for 6 goals on 30 shots in Minny. Not that those goals were all on the beleaguered netminder, mind; he made a valiant effort in Xcel Energy Center but didn't receive a whole lot of help from his teammates. Which is where the second change comes in.
Article content
The pairing of Mattias Ekholm and Evan Bouchard, so good down the stretch a season ago as the Oilers rolled to an 18-2-1 mark after Ek's arrival, has struggled mightily so far. Some of that is due to Ekholm's hip flexor which cost the veteran the entirety of training camp and the season opener, and has seen him play at something less than 100% ever since. That same injury prevented Woodcroft & Co. from a planned preseason experiment of pairing elder statesman Ekholm with young Philip Broberg.
Sounds like Oil fans will finally see that all-Swedish duo tonight, after they played 3:25 together in the burning ashes of last game. For Broberg it will be his first chance at a top four role since the earliest days of his career when the Oilers' blueline was best by an injury/illness bug.
The flip side to that is the demotion of Bouchard, whose 8 points are twice the number of the other 6 Oilers d-men combined. Much of that offensive success (5 points) has come on the powerplay, where presumably Bouch and his Bomb will remain. But at even strength, his defensive struggles have far outweighed his offensive upside to this early point. Time for a reset.
Article content
Bouchard's defensive problems have seemingly all occurred in just 3 games, but all were doozies.
Game 1 at Vancouver (no Ekholm): 0-1-1, -3 in 24:41. By our own Grade A Shots project here at the Cult of Hockey, Bouchard was tagged with significant mistakes  on 3 different Canucks goals, all at 5v5.
Game 4 at Philadelphia: 0-0-0, -3 in 19:56. Once again, defensive errors on 3 goals, 2 at 5v5 and the other on an Edmonton powerplay.
Game 6 at Minnesota: 1-2-3, -3 in 18:18. Bouchard mistakes were part of the issue on no fewer than 4 Wild goals, all at even strength (one at 4v4).
Make it a hat trick of dash-3 games already, just 6 games into the season. While plus/minus is notorious for crediting/debiting players who are not really involved in the play, that's hardly the case here. Our analysis points to a variety of mistakes: 4 turnovers, 2 lost battles, 2 poorly-defended shots, 1 bad pinch, 1 breakaway allowed.
Important to note that his goalies — mostly Campbell since these were all road games — haven't bailed him out very often. Also, that Bouch was hardly the only player at fault on most of these goals; in all, 26 "contributions" were assigned on these 10 goals, but #2 was a common element of all 10. Nowhere near good enough.
Article content
Fair to say that the reset is in order. Also fair to say that it's far too soon to write off the talented blueliner, whose 8 points are 1 behind league leaders Cale Makar and Shayne Gostisbehere. Alas, his -8 is second worst in the league; only Carolina's Dmitri Orlov is poorer in this category at -11.
For now Bouchard will line up with Brett Kulak, another defender who has struggled out of the gate after being banged up in preseason. Kulak does have a history of being a reliable partner and mentor in a third-pairing role, having lined up with Broberg and Vincent Desharnais after previously forging a solid partnership with fellow vet Tyson Barrie.
It will be interesting to see how the coaching staff deploys their 7-man group tonight. With the right-shot Bouchard now on the third pairing, Desharnais seems less likely to get 5v5 ice time in a 3-man rotation unless and until the Oilers are protecting a lead. On the other hand, he may get the odd shift with Ekholm, with whom he has successfully teamed up on the penalty kill during their brief time as teammates.
Some welcome news on the McDavid front, where Daniel Nugent-Bowman of The Athletic reports: "It sounds like Oilers captain Connor McDavid skated on his own this morning. No update from Jay Woodcroft about his status for Sunday's Heritage Classic. The coach said he'd have an update after tonight's game."
Article content
Speaking of which, tonight's contest is scheduled for 7pm MT, but that is when the Oilers Hall of Fame ceremony memorializing Charlie Huddy and Doug Weight will begin, which will delay puck drop by a few minutes.
As for Weight's first NHL team, the Rangers arrive in Edmonton with a 4-2-0 record with just 13 goals allowed. Star goalie Igor Shesterkin backstopped a 3-1 win at Calgary on Tuesday and is projected, though not yet confirmed, to get the start.
Recently at the Cult of Hockey
STAPLES: That One Big Problem that's killing the Oilers? It's fixable
LEAVINS: Player grades from poor defensive effort in Minny
STAPLES: Controversial line changes ahead of Oilers game in Minny
McCURDY: Connor McDavid to miss 1-2 weeks of action due to "upper body" injury
LEAVINS: Burning questions about the McDavid injury — 9 Things