"Our clients, who are already having a rough time year-around, get to the holidays when there's these expectations to put more food on the table or buy presents or make it special and memorable and it just can't be done"
Article content
Edmontonians gathered at the Fairmont Hotel Macdonald on Friday for its annual Tree Lighting Ceremony to kick off the holiday season.
The ceremony took place in the hotel's lobby as families and their children gathered around the ceiling-high Christmas tree. In the spirit of the holidays, the Fairmont is partaking in a series of initiatives with local organizations to give back during the season.
Article content
For twenty years the hotel has collaborated with Make-A-Wish Foundation to collect donations. This year when guests book on the Trees of Hope Campaign from November 30, 2023 to January 15 2024, the Fairmont will donate $10 from each night to the foundation.
Jen Garden, chapter director at the Northern Alberta's Make-A-Wish Foundation, said this holiday season they are granting 15 wishes for children who have been diagnosed with a critical illness. Each wish ranges in price with most averaging around $10,000.
"I'm seeing a lot of Disney in my list," Garden said with a laugh.
"We are absolutely thrilled to be part of the fundraising efforts of the Fairmont. They've been supporting our wish granting program for two decades. We know that a wish can improve a child's quality of life and wishes are vital to children physically, mentally and emotionally and are often a turning point in a child's recovery."
In Northern Alberta there are just under 400 children on the Make-A-Wish list. Garden said it usually takes between 12 and 18 months to grant a wish. The foundation often will have to take into consideration the child's medical condition, if there's time in between treatments and the impact on their education.
Article content
On Dec. 1 the foundation will be kicking off their Calendar Wishes Campaign. The life-sized advent style calendar will be situated in downtown Edmonton at Abbey Glen Park and everyday at noon until the 24th a door will open to reveal a wish granted in the past year.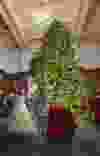 People who visit the advent calendar can choose to donate a $10 through a QR code.
"The holidays are when a large portion of our giving comes in which we are so incredibly grateful for. We rely heavily on the success of our holiday campaign because they set us up for the next few months of wish granting," said Garden.
In collaboration with the Christmas Bureau of Edmonton, for every sale of the Fairmont's signature gin, Festive Spirit, they will donate five dollars to the organization.
Lisa Dayanandan, manager of partnerships and engagement with the Christmas Bureau of Edmonton, said proceeds from the Fairmont will go towards their signature Food Hamper Program. Last year they were able to give 1800 to Edmontonians. But as the need increases, they're expecting their numbers to rise by 25 per cent this season.
Article content
"Last year was when we saw the full effects of the pandemic," said Dayanandan. "With the rising food costs and inflation, everybody's feeling it a little bit tighter regardless of their situation. Our clients, who are already having a rough time year-around, get to the holidays when there's these expectations to put more food on the table or buy presents or make it special and memorable and it just can't be done."
"We're really happy to be that service that can say, for this time, for this day or this week let's take that stress out of the equation. Let's make, make those memories happen around the table so that you can go into the New Year a little bit more relaxed and able to face it a little better."
Dayanandan said donations are welcome from the community and mentioned their second program, Adopt a Teen, provides youths who have aged out of the holiday gifting program with a Walmart gift card.
For the Edmonton Bissell Centre, in lieu of a gingerbread house, the Fairmont will be redirecting funds allocated for the temporary installation to the centre so they can continue to provide essential services.
Related Stories
BOOKMARKS: Karlynn Johnston's newest cookbook, A Very Prairie Christmas Bakebook, celebrates her love of the holidays

Edmonton Events: Three to See includes Antiques Roadshow art, All Is Bright and Depeche Mode