"Those dignified elder statesmen are/Far too famous to haul their own equipment" but Canadian AM radio hits pulled through the filter of 90s rock works – magnificently
Reviews and recommendations are unbiased and products are independently selected. Postmedia may earn an affiliate commission from purchases made through links on this page.
Article content
Trans-Canada Highwaymen: Explosive Hits Vol. 1
The general consensus for musical supergroups is that they are seldom the sum of their parts. For every CSNY and Traveling Wilburys is a Damn Yankees and Monsters of Folk. While it's still too early to determine where the Trans-Canada Highwaymen will land in the rankings of rock supergroups, its first release just might be the most joyful listening experience you'll have this year.
Article content
Sure, Trans-Canada Highwaymen consists of four of this country's best rock singer-songwriters whose biggest hits were in the '90s, but they're also not aiming for pop-culture dominance with their first release,  Explosive Hits Vol. 1. The group — consisting of Edmonton's Moe Berg of The Pursuit of Happiness, Sloan's Chris Murphy, Odds' Craig Nothey and former Barenaked Ladies frontman Steven Page — first came together in 2017 to tour as a collective, playing each other's songs on the nostalgia circuit and trade dad jokes.
For their next step, the four musicians picked a handful of Canadian AM rock radio hits to record during COVID lockdowns. Recorded remotely but mixed in the Odds' North Vancouver studio, the resulting album pays tribute to the K-Tel compilation records of the 1970s, right down to the chintzy album artwork.
Article content
Sloan fans will recognize the concept from the group's Recorded Live at a Sloan Party, which mixed covers with originals (it's a real gem and worth searching out.) With Explosive Hits Vol. 1 listeners are presented with a CanCon inception of sorts: Canadian radio hits from the late '60s to' 70s as filtered through Canadian rockers from the '90s. But it works, magnificently.
Tracks range from The Guess Who's Undun, Andy Kim's Rock Me Gently and The Stampeders' Carry Me to The Poppy Family's Which Way You Goin' Billy? Berg sings on Lighthouse's Pretty Lady, Joni Mitchell's Raised on Robbery and Edward Bear's You, Me and Mexico. The Trans-Canada Highwaymen's renditions are largely faithful to the originals, with small bits of personality sneaking through, such as the guitars a little bit louder and crunchier, but still faithful to the source material, right down to the song fade out on Heartbeart, It's a Lovebeat.
Highlights include Murphy's take on Michel Pagliaro's Lovin' You Ain't Easy complete with Beatle-fied vocal harmonies and funky keyboard lines, Nothey rockin' version of Tonite Is A Wonderful Time To Fall In Love and Berg bashing out Raised on Robbery as if fronting a garage band. 
Article content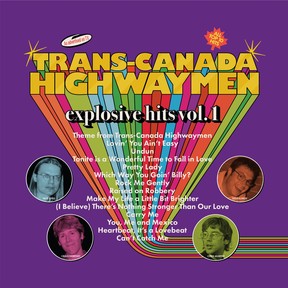 However, it is Page who shines brightest on this set. Not only is he the strongest singer of the four, effortlessly nailing Burton Cummings' high notes on Undun, but he also penned the lone original on the album: Theme From Trans-Canada Highwaymen. A witty, self-deprecating story-song on how the band came together, à la Creeque Alley or Wonderboy, the track features Page singing over a chugging beat, detailing the supergroup's origins. "Those dignified elder statesmen are/Far too famous to haul their own equipment/ I bet they only do it 'cause they're such/Humble, down-to-earth Canadians" It's a hoot and includes a shout-out to Gord Downie, RIP.
The love of their craft is evident on Explosive Hits Vol. 1. Schmaltzy pop songs are elevated to iconic status in the hands of these four musicians, which may stir pangs of nostalgia within you. You'll be hard-pressed to find a more joyful listen this year. Bring on Vol. 2.
Stream Explosive Hits Vol. 1 on all major music services.
Related Stories
Doobie Brothers shuffle vast catalogue for Edmonton fans new and old

The Rural Alberta Advantage set to be the Heritage Classic Battle of Alberta's house band