Article content
One PTO out, another in his place.
Fresh on the heels of Tuesday's waiver of Adam Erne comes confirmation from Edmonton Oilers' head coach Jay Woodcroft that Sam Gagner will be recalled by the NHL club to fill the void.
Article content
Both NHL vets signed professional tryouts with the NHL club last month along with Brandon Sutter, who was seen by many as the likeliest to make it should he be physically able to do so. Turned out he wasn't, and announced his retirement from hockey.
Article content
Next up was Erne, who came to camp healthy and got the first look, signing an NHL contract once the season was underway. In 6 games of limited ice time, he failed to move the needle and got waived Tuesday.
The third PTO was Gagner, who arrived in camp after double hip surgery which kept him out of preseason games even as he skated with the team. 2 games into the AHL season, he signed a minor-league contract with Bakersfield Condors and immediately excelled, scoring 1-4-5, +4 in just 3 games.
Now that contract has been replaced with a two-way pact with an NHL component which, not surprisingly, is at the league minimum salary of $775,000.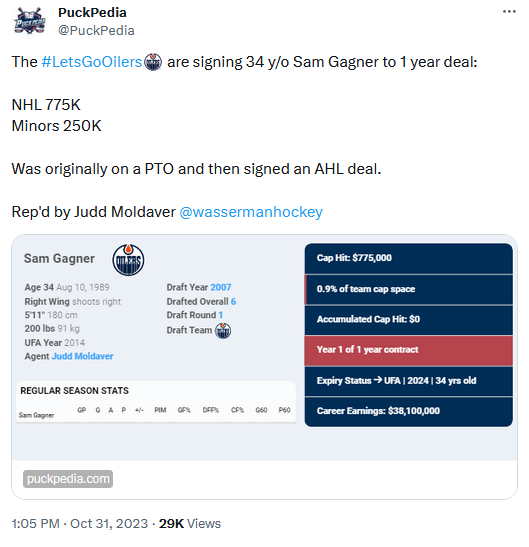 After Tuesday morning's practice, coach Jay Woodcoft confirmed it will be Gagner who gets placed on the Oilers' roster. That will become official once Erne's waiver situation is resolved Wednesday at noon.
The 34-year-old veteran of 1015 NHL games and 519 points will be plugged into an Oilers' bottom six that has produced flat nothing through the first 8 games of the season. He'll be expected to provide a jolt of offensive creativity within that dormant group, and likely within the second powerplay unit as well.
Article content
The right-shot forward is very well-known in these parts, having been drafted by the Oilers 6th overall in 2007 and immediately making the NHL not 2 months after his 18th birthday, making him the youngest player in the club's NHL history. (Wayne Gretzky was 17 when he first played for the squad in its final season in the World Hockey Association.) Gagner played 7 years here before being traded after the 2013-14 season, then returned in 2019 for a year-long stint from one trade deadline to the next. In all the he has played 542 games for the Oil (111-206-317), though none at all in the playoffs.
Related Stories
Adam Erne placed on waivers by Oilers; who will get the call in his stead?

Best Edmonton Oilers d-man this year? Unheralded, often maligned but back on track
He is also well-known by the Oilers' CEO of Hockey Ops, Jeff Jackson. Gagner was Jackson's very first client when Jackson became a player agent; Sam's dad, long-time NHLer Dave Gagner, worked closely with Jackson in the agent business.
The younger Gagner's most famous game by far came on 2012 Feb 02, when he scored 4 goals and 4 assists, chipping in on all 8 goals as the then-moribund Oilers stunned then-league power Chicago Blackhawks 8-4. Gagner remains the only player this century to record an 8-point game, indeed the only one since the 1988-89 season in which the marvelous Mario Lemieux achieved the feat an astonishing three times. Having scored all 8 of those points in the final 2 periods, Gagner then popped 3 first-period points in Edmonton's next game, thus scoring 11 points in an astonishing 60-minute span while also being involved in 11 consecutive Oilers' goals. Even the Great Gretzky never did that.
Article content
That's all in the distant past, of course. The modern Oilers would be thrilled if Gagner could come anywhere close to his more-pedestrian career rate of a point every other game or so.
Time will tell what impact he has in his third go-around in this city. What can be expected is that he will be warmly received by the local fan base, with whom the popular vet forged a very strong relationship during the 9 seasons he played here. Welcome home, Samwise!
Recently at the Cult of Hockey
McCURDY: Adam Erne waived; who will replace him?
STAPLES: Who has been the best Oiler's d-man so far this year?
McCURDY: Player grades for Heritage Classic stomping of Flames
LEAVINS: All systems go for McDavid in Heritage Classic — 9 Things
McCURDY: Oilers should be fine once they start using their feet, hands, heads
STAPLES: Player grades as Oilers lose another downer to the Rangers