Get the latest from Keith Gerein straight to your inbox
Article content
Across the alley, I have a neighbour who provokes a certain jealousy every time I walk by and see the incredible amount of work he's put into his landscaping.
The reams of flowers. The immaculate lawn. The aesthetics of the patio.
Article content
It's a real urban oasis he's created, something I would never have the talent or patience to attempt myself.
However, I also can't recall a single time when I noticed anybody else in the yard except for him. That's his choice of course, but I've often wondered why someone would devote that kind of effort to creating a beautiful home if they never show it off.
Article content
That's also how I'm beginning to feel about Alberta when it comes to our recent slump in hosting the world. It's been awhile since we've done a big international to-do, in part because we've lost a bid or two — the 2026 FIFA World Cup most notably — but also because we've been reluctant to commit to a bid at all.
Withdrawn applications include Expo 2017, the 2022 Commonwealth Games, the 2026 Winter Olympics and now, as you've likely heard, the 2030 Commonwealth Games that would have been jointly staged in Edmonton, Calgary, Tsuut'ina Nation and Enoch Cree Nation. There's a bit of a pattern emerging.
It's prompted me to question if we're in danger of losing not just our mojo for putting on these big events, but also our ability to remember the benefits that can come with them.
Related Stories
Alberta scraps bid for 2030 Commonwealth Games

Keith Gerein: Plenty of blame to go around for Edmonton's missed World Cup moment

Calgary mayor slams provincial, federal officials for handling of Olympic file

None
That said, our provincial cabinet's decision to withdraw in this case was not a surprise, nor do I sense it's going to lead to a lot of tears.
Article content
The economics, public perceptions and politics around hosting certain international events has hardened in recent years. From the fears of cost overruns and security risks to the uncertain economic impact and chronic stink of corruption around large sporting federations, it's become an increasingly tough sell — which is why you are seeing less and less competition to host international spectacles.
In this kind of environment, mounting a serious effort to hook a big fish requires full commitment from all the relevant partners to see it through. According to a couple of sources connected to the 2030 bid, that was definitely lacking in this case, in which the bid committee and government were not on the same page in terms of their enthusiasm or desire to build public support.
"It's time for a collective long hard look in the mirror about our approach to these major sporting events," said one source. "Government needs to be more aligned with the kind of community leadership and community effort required to win these bids, as well as be clearer about the potential enormous community benefits."
Article content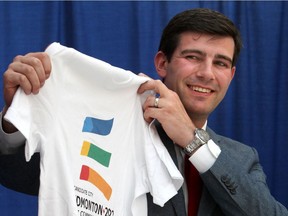 At least cabinet pulled the plug before the bid got in any deeper, although the final outcome hardly seemed in doubt.
After all, much of cabinet was part of the previous government that only reluctantly and belatedly supported Edmonton's 2026 World Cup application, which would have been a much bigger deal had it succeeded.
As such, the Commonwealth Games, which have lost a lot of their lustre, probably didn't stand much of a chance.
In a strange twist on that front, sources told me that certain folks in the premier's office went cold on the Commonwealth Games in part because of a desire to switch gears toward a late bid for the 2030 Winter Olympics — an entreaty that apparently didn't go anywhere with the Canadian Olympic Committee.
If accurate, that's an odd play considering Calgarians' recent rejection of the 2026 Olympics, and comes across as another doomed example of going after something in a piecemeal or haphazard way.
When I asked the province for comment on the alleged Olympic flirtation, the response did not really answer my question, but insisted that the pullout of the Commonwealth Games was solely due to concern over risk and cost.
Article content
Ah yes, the cost, which the province says would have been an estimated $2.68 billion. To be clear, most of that would been shared among the municipalities, Alberta government, Ottawa and Commonwealth Games Federation, and included a significant contingency for overruns.
Nonetheless, it's a substantial figure for a second-tier event that was supposedly going to be somewhat stripped down from past Games.
I can understand the government's unwillingness to justify that when we seem to be facing several large crises around homelessness, addictions, health system capacity, wildfires, energy transition and so on.
So yes, I agree, this was probably not the right event and not the right time.
Nonetheless, we shouldn't let our recent string of struggles dissuade us from pulling out of this arena entirely. We just need to be more strategic about it, doing the legwork ahead of time to pick the events we really want to host and getting all the players in alignment before launching a bid.
That includes a better effort to embrace the idea that while these sporting spectacles come with a big price tag, they can also have a lasting legacy, which is the far bigger carrot than throwing a party for a week or two.
Article content
Imagine if Edmonton hadn't hosted in 1978. We may not have the LRT system we have today. We may have missed out on major events that came in subsequent years. The Elks would undoubtedly be setting losing streak records in some other, inferior stadium.
And it's not just the facilities, but the benefits that come from welcoming tourists, investors and media, fostering international connections, flaunting the province's industries, and building the human infrastructure for hosting.
One big success lays the groundwork for more.
Like my neighbour's garden, our province has a lot of advantages to show off. But we will never capitalize on that opportunity if we continue to tell the world to keep off the lawn.