Article content
Celebrating its recently completed 575-kilometre Key Access Pipeline System (KAPS) pipeline Wednesday, energy infrastructure company Keyera Corp credited early collaboration with local and Indigenous communities for getting the project across the finish line.
KAPS, at its maximum capacity, will transport 350,000 barrels per day of natural gas liquids (NGLs) and condensate from northern Alberta to Keyera's liquids processing and storage hub in Fort Saskatchewan, about 50 kilometres northeast of Edmonton.
Article content
It's the 25-year-old company's largest project.
At an event marking the pipeline's completion Wednesday, Keyera president and CEO Dean Setoguchi pegged the cost of the project at about $2 billion, calling it a "milestone achievement" for Keyera and a critical piece of infrastructure for Alberta.
"KAPS is more than a pipeline," he said, adding 350 pipeline modifications were made based on land-use studies and discussions with Indigenous elders, chiefs, municipalities, community members and other stakeholders.
"It's an energy extraction solution, helping to unlock partnership and prosperity through a purposeful approach," he said.
NGLs are extracted when natural gas is produced and will go to the Industrial Heartland for use in petrochemical plants producing things like plastics, for industrial use, or for export.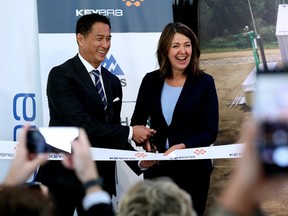 While Setoguchi said the pipeline was needed to get NGLs to Fort Saskatchewan, it will also help enable more natural gas production and ultimately help liquid natural gas make its way to the West Coast for global export.
The company said it engaged with 22 Indigenous communities along the pipeline route, which also crosses nine Alberta municipalities. Sixty Indigenous-owned or affiliated businesses were contracted on the project, with an estimated $ 272 million worth of construction services contracts with Indigenous-owned or affiliated businesses.
Article content
"While KAPS (construction) is over, we will continue to try to work with our Indigenous partners for future business opportunities as well," Setoguchi told reporters.
KAPS is operated by Keyera and half-owned by investment firm Stonepeak.
Consultation and land acquisition began in 2018 and construction started in 2020. The line began transporting condensate in 2020, with NGLs moving soon after in June.
Setoguchi said Keyera wanted to ensure it was up and running before making a celebratory announcement, but no problems have since come to light.
"We wanted to respect that there were a lot of fires across Alberta and we want to be very respectful, and safety comes first of mind for us," he said.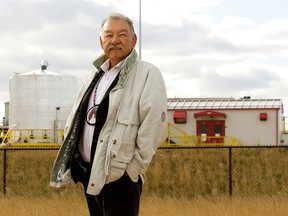 'I see this as the beginning': Chief George Arcand Jr.
Chief George Arcand Jr. told reporters Alexander First Nation was involved early on in the project's planning, including when it came to input on potential local environmental impacts.
"We were a part of determining some of the alignment, part of determining some of the construction measures that were undertaken with our business partners. When you are at the table at an early stage, you can influence change and opportunity and Keyera gave us that opportunity," he said, adding the agreement offers a good template for consultation and for growing business opportunities for First Nations.
Article content
"I see this as the beginning, and I think this is an opportunity for us to now start to set the bar higher, and an opportunity for us to do things better in Alberta," he said.
Related Stories
https://edmontonjournal.com/news/politics/alberta-premier-smith-says-provincial-carbon-capture-incentives-expected-in-november

Varcoe: Alberta business leaders urge Ottawa for 'regional' approach to net-zero power grid
Speaking at the event on Wednesday, Premier Danielle Smith said the project would help create jobs. She did not take questions from reporters.
"I said to Dean (Setoguchi), 'How did you get this project built without the drama that we normally see around pipeline projects?' And I think it's really a credit to all the work that you did on consultation, on environment and partnerships," Smith said.
Keyera said in a news release $3.1 million was invested in community funding to support Indigenous training, infrastructure, health programs, and community initiatives.
One truck terminal in Fox Creek, about 270 km northwest of Edmonton, and a pump station near Whitecourt, about 177 km northwest of the capital, were also built as part of the project.
X: @reportrix