Article content
Three crucial takeaways about Oilers axing Jay Woodcroft, hiring Kris Knoblauch
Still trying to make sense of all that has gone down with the Edmonton Oilers in recent weeks and days?
Article contentAren't we all.

Here are three things to keep in mind:

1. It doesn't matter whether or not Connor McDavid did or didn't have input on the decision to fire Woodcroft and hire his old major junior coach Kris Knoblauch.
Article contentIf McDavid was asked for his opinion on how the team was doing under Woodcroft, that makes sense. NBA superstars engineer trades and signings now regularly. Pro players have ever more power. No big deal if someone in Oilers management asked McDavid for his take on the state of the dressing room. Why not?

At the same time, if he didn't get asked, or if he refused to get into it with management, that's OK too. However the decision was made, there was obvious justification for doing it, with the Oilers having just three wins in 13 games and with the season quickly slipping away for a club with Stanley Cup ambitions. The decision wasn't based on the capricious whim of any single player or manager.

But one thing does matter when it comes to the decision, that on Sunday after news leaked out of the Oilers axing Woodcroft and hiring Knoblauch, a negative narrative about Meddling McDavid suddenly exploded online, suggesting McD called all the shots on the team. It was then that Edmonton's new hockey boss, CEO of Hockey Operations Jeff Jackson did all he could to protect both McDavid and the franchise.
Article contentJackson came to McDavid's defence like Evander Kane might if No. 97 ever took a high stick.

At the press conference, GM Ken Holland was asked if the leadership group were brought in to discuss potential options for the team. Holland made clear he had made the decision, but noted he had consulted with players. "I have talked over this past week with some of the veterans on our team. Not going to tell you what they said. I take the information and ultimately, I have to make decisions. Obviously, Jeff's got a long relationship with Connor. You can probably talk about that."

The matter was still somewhat vague. What was discussed? Was anything specific about hiring or firing discussed? That was unanswered.

It's one thing to talk to players about the team, it's another to get their opinion on hiring and firing.

To clarify, Jackson jumped right in, coming in hard off the top rope to body slam the notion and protect his leadership group.

"We didn't consult with the players on this decision," Jackson said. "Never spoke with Connor or Leon or Nuge or Nursey or any of the other leadership group. These guys are here to play hockey. They know that. That's what they want to do. They don't like being involved in these types of decisions… Connor didn't have anything to do with this decision and neither did the other leadership group."

Of course, many folks won't believe Jackson. His statement won't put the matter to rest, not with a million Edmonton fans and a million opinions.

But what of it?

What stands out is Jackson's fierce protective instinct for McDavid and his other players, an excellent trait in this new Edmonton hockey boss.
Article content2. The Oilers can change coaches but they will go nowhere if there key players, forwards Connor McDavid and Leon Draisaitl, d-men Mattias Ekholm and Darnell Nurse, and goalie Stuart Skinner, aren't healthy. To start the year, Ekholm wasn't healthy and he's only now looking right. McDavid looked healthy at first, but he got banged up along the way, impairing his ability to handle the puck. He says he's healthy now but doesn't look it. Evidence? Last season he averaged making 6.9 major contributions to Grade A shots per game. In the win against Seattle, he made not one.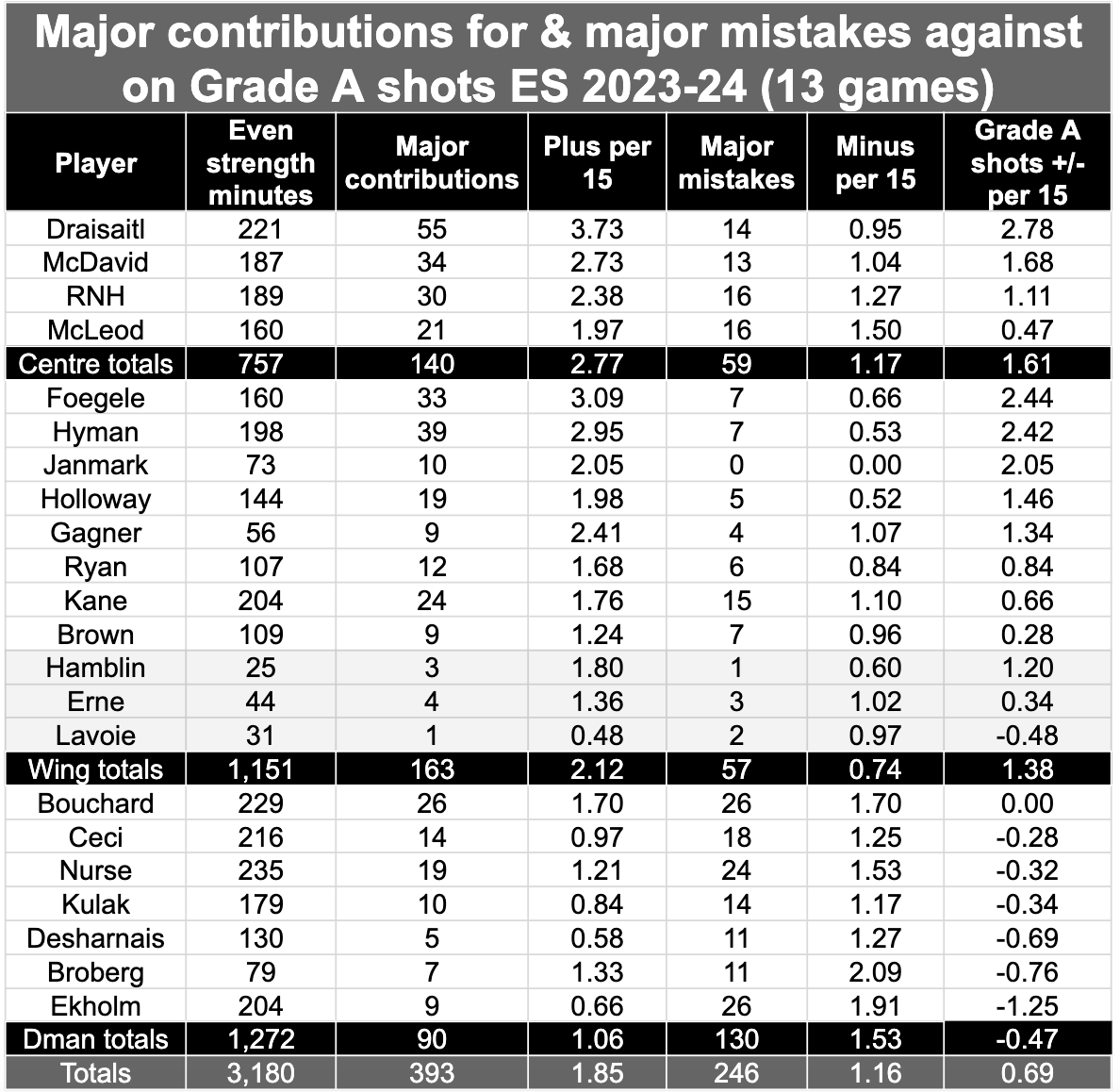 3. The Oilers need better goaltending and to start scoring again, but it doesn't matter who coaches the team if the players refuse to play sound fundamental defence. The Oilers players showed off that kind of hockey in Edmonton's 4-1 win over Seattle, but this season has been marked by impatience and mental mistakes, by Edmonton pressing too hard to score and giving up odd-man rushes and goals against. We've also seen a few too many wide open slot shots against.
Defence won Vegas their championship last season. Defence is king in the NHL right now, in particular the zone defence played by Vegas and Boston.
Article contentMany teams are copying the Vegas/Boston system. Why? Because it limits dangerous shots from the slot, the kind that killed the Oilers against Vegas last season.

Edmonton tried to adopt this same zone earlier this year. The Oil's play in the d-zone against the cycle has been OK. It's not the reason they're losing.

It sounds like under Knoblauch the focus on defence and mastering the zone defence will continue.

When asked about his coaching style, Knoblauch said: "Well, the first thing, and I'm sure every coach talks about it, is if you're going to have success in this league, you have to be good defensively and reduce your goals against… I think last year 15 of the top 17 (defensive) teams made the playoffs, or the top defensive teams for goals against made the playoffs. The year before that it was 16-of-19, so obviously there's a very strong correlation that if you are a good defensive team, you're going to have success winning games."

On playing the zone, Knoblauch said: "Personally, I feel much more comfortable with more of a zone-structure defence. I think with the personnel that we have here, it's going to be very similar to what they were doing where a lot of teams in NHL are kind of going to that type of system where the defensemen stay in their quadrants, closer around to the net and have the forwards low forward expand a little bit more."
At the Cult of Hockey
McCURDY: Holland on why the Oilers moved now
McCURDY: Upheaval behind Oilers bench as Woodcoft, Manson fired, Knoblauch, Coffey hired
STAPLES: Hockey world reacts to firing of Jay Woodcroft
LEAVINS: 9 Things — why not give Woodcroft more of a chance?