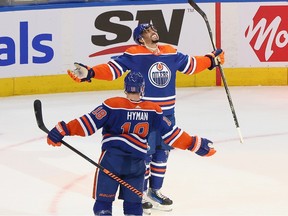 Article content
Edmonton Oilers forward Evander Kane was a one-man wrecking crew when it came to pulling out a victory in the face of near-certain defeat Wednesday.
Kane scored a natural hat trick, including the overtime winner, for the Oilers in a 4-3 come-from-behind victory over the Seattle Kraken. He scored the equalizer with 46 seconds remaining in regulation.
Article content
"Going into a long road trip here, to get a couple wins finally at home in a row is nice. We've come back before, down going into the third period," Kane said. "It was nice to be able to do that for the first time this year."
Article content
The Oilers continue to try and dig themselves out of their early-season hole. Edmonton has won three in a row, and two straight under new head coach Kris Knoblauch who replaced Jay Woodcroft on Sunday.
"I think we're starting to find our groove a little bit here," Kane said.
Knoblauch was pleased his team recovered from a dreadful second-period stretch.
"The last 12 minutes of the second period was almost rock bottom, in my opinion. I didn't think we played well at all. But in the third period, we showed a lot of passion and perseverance to stick with it," the coach said.
"Hopefully the way that we won today makes us a better team in the long run."
Zach Hyman waited for a Seattle defender to go down before sending the puck across to Kane for his seventh goal of the season at 2:57 in overtime.
Connor McDavid also scored and Evan Bouchard had three assists for the Oilers (5-9-1). Edmonton starter Stuart Skinner made 33 saves.
Jared McCann, Pierre-Edouard Bellemare and Alexander Wennberg replied for the Kraken (5-8-4) who have lost three straight and five of their last six.
"I feel like we had our opportunities to score a couple of more goals." Wennberg said. "In general, I think we had a pretty good game. It's a tough way to end it. Things happen out there, but we can't lose this game. This is one of those games we have to fight through and find a way to win and unfortunately we didn't today."
Article content
Joey Daccord stopped 28 shots in the loss.
The Kraken created more scoring chances in the first period that ended without a goal for either side.
Edmonton broke the deadlock five minutes into the second frame when Leon Draisaitl sent McDavid in all alone to beat Daccord with a backhand move.
McDavid scored his second in as many games on the heels of eight games without a goal.
Seattle responded when a rebound off a Jordan Eberle shot deflected off McCann's shin pad and into Edmonton's net.
The Kraken surged midway through the second period after Edmonton's poor clearing attempt allowed Vince Dunn to unleash a bomb from the point tipped in by Bellemare.
The visitors led 3-1 with 2:39 remaining in the second. Wennberg picked up a rebound and executed a spin-around shot that eluded Skinner for Wennberg's first goal of the season.
Edmonton caught a break early in the third by avoiding an own-goal.
With a Seattle penalty upcoming, Oilers defender Vincent Desharnais attempted to pass out from the corner, but there was nobody there. The puck hit Edmonton's post with Skinner pulled for an extra attacker.
Article content
The Oilers got one back with 6:32 remaining in the third when Kane redirected Evan Bouchard's shot from the point.
With Skinner pulled for the extra man, Draisaitl chipped a pass through the crease to Kane to go upstairs on Daccord with 46 seconds left in regulation.
"We talk in here about being a resilient group. We've seen it countless times from the guys who have been here for a while," Oilers defenceman Darnell Nurse said.
"Showing up when our backs are against the wall, I don't think can really be questioned. It was great to see it tonight. It's a big win."
NOTES
The Oilers placed Mattias Janmark (shoulder) and Dylan Holloway (lower body) on long-term injured reserve Wednesday. Raphael Lavoie, Adam Erne, and Philip Broberg were recalled from the AHL's Bakersfield Condors. Also out hurt for Edmonton is Connor Brown (lower body), but he's been skating and is expected to be ready for an upcoming road trip… The Kraken recalled forward Andrew Poturalski from the AHL's Coachella Valley with forwards Ryan Winterton and Shane Wright assigned to the AHL… Veteran forward Eberle returned to Seattle's lineup after missing three games with a leg cut suffered in practice Nov. 8.
UP NEXT
The Kraken are at home Thursday to the New York Islanders. The Oilers begin a four-game road trip Saturday against the Tampa Bay Lightning.
This report by The Canadian Press was first published Nov. 15, 2023.