Article content
The next phase of the Stony Plain Road bridge replacement will close Groat Road to vehicles and pedestrians starting next week.
The Groat Road shared-use path will close at 7 p.m. next Tuesday, Aug. 8. The road will close to vehicles between 107 Avenue and River Valley Road starting at 7 p.m., Aug. 10.
Article content
Groat Road is expected to reopen to vehicles at 6 a.m. Aug. 14, while the shared-use path will remain closed until 6 a.m. Aug. 19.
Article content
Vehicle detours include Victoria Park Road, 149 Street to Whitemud Drive and 109 Street to High Level Bridge. Northbound and southbound pedestrian and bicycle traffic can use 102 Avenue to Victoria Promenade and Ramsay Ravine near Government House Park as a detour, said a Tuesday news release from the city.
Marigold Infrastructure Partners will use the time to install girders that will support the bridge deck. The work is part of the construction of the Valley Line West LRT line. The bridge is being widened to accommodate the trains, plus vehicles, bicycles and pedestrians.
The installation will take place around the clock Aug. 10-14, the city said. The city warns those nearby to expect noise and vibration from heavy equipment, including a large crane and transport trucks, working on site.
"Please exercise caution and follow all construction signage in the area," the news release states. "The city thanks motorists, pedestrians and cyclists for their patience while we work to complete this transformative project."
Related Stories
Edmonton LRT expansion to close Stony Plain Road bridge, demolition begins Thursday

Edmonton wraps long construction season that frustrated commuters and businesses, involved LRT delays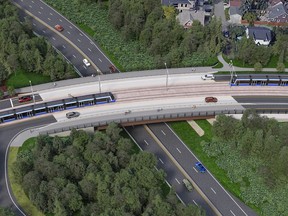 Share this article in your social network