Article content
The story line heading into the game was we'd find out how much the Edmonton Oilers players want to play for their embattled coach Jay Woodcroft by how much effort they brought into Saturday night's game against Seattle.
If that's the case, goalie Stuart Skinner and Zach Hyman showed Woodcroft the love.
Article content
The Oilers came out tentative, fragile as a snowflake, but Skinner made a monster save early on and Hyman took over the game with hustle and skill, setting the stage for a 4-1 win over the Seattle Kraken.
Article content
It was Edmonton's best defensive by far this year. They did an excellent job checking the Kraken all game.
In total, the Grade A shots (which go in 25 per cent of the time on average) were ten for Edmonton, four for Seattle, with the subset of 5-alarm shots (33 per centers) eight for the Oilers, three for the Kraken.

Connor McDavid, 5. How often do the Oilers win when McDavid plays but makes not one major contribution to a Grade A shot for? He averaged seven per game last year. Super quiet game, as quiet as quiet can be for McD. Still fighting it with the puck. Some excellent slot defence early on — such a rarety this year from an Oilers forward — winning the puck and sending off his team on the counterattack. He was unable to lift a break-in pass to Foegele on the rush early in the third, indicative of his struggles. Individual contributions to Grade A Shots (GAS): even strength +0/-0; special teams +0/-0
Leon Draisaitl, 5. He's struggling big time.  He missed the net on an early one-timer but finally drilled two hard shots on net late in the first. He picked off goalie Joey Daccord's alley oop pass, but failed to drain two great slot chances. He missed the net again on a 2-on-1 harpoon off a McDavid pass in the third. That's been the story of his last few weeks. Fab backcheck, tho, late in the game. GAS: ES +2/-0; ST +0/-0
Article content
Warren Foegele, 6. Led the way with effort. He made a desperate backcheck early on to thwart the makings of a dangerous Seattle rush (of course, all rushes against the Oilers at this point feel dangerous). He made another strong defensive play, hammering down on Gourde's stick on a wide-open look in the slot in the first, thus preventing a shot. GAS: ES +0/-0; ST +0/-0
Ryan Nugent-Hopkins, 6.  He allowed the pass across on Seattle's first 5-alarm shot. He fired a wrister leading up to Hyman's third goal. He led his veteran line doing some solid checking in the third. GAS: ES +2/-2; ST +0/-0
Evander Kane, 7. He led the way with aggression and skill. He won the puck on d-zone boards, charged hard up the ice, pushed it into the slot for Hyman, and scored. On Hyman's third goal, he tipped RNH's initial shot, then got pushed into the goalie, bringing the slot chaos. He was out of position on Seattle's power play goal, allowing a wide open outside shot. GAS: ES +3/-1; ST +0/-1
Zach Hyman. 10. They needed a stupendous game from someone and Hyman brought the stupendous. He fought his way into the slot and got off a wicked backhander on the rush for Edmonton's first goal. He got his second of the first period screening the goalie on the power play and punching in Evan Bouchard's wrister. On his natural hat trick goal, he made a fab pinch down the boards to win the puck, getting the puck to RNH, then pounding home a scambling 5-alarmer. He also got a stick on Kailer Yamamoto, preventing a dangerous shot in the second. His line checked the hell out of the Krak. GAS: ES +3/-0; ST +1/-0
Article content
Ryan McLeod. 7. Where has this guy been all year? He was flying all night, hungry to be a playmaker, just this as several Oilers insiders had turned against him. He charged in fast and got off a hard wrister early in the second, then followed up with another Grade A wrister off a Holloway drop pass, made possible by Derek Ryan's flashing goalie screen. GAS: ES +2/-2; ST +0/-0
Dylan Holloway, 8. His best game as an Oilers player. He blocked a shot half-way through the first and might have had a break-in rush but drew a penalty getting tripped down, with the Oil scoring on the subsequent power play. He got inside position and held it, allowing him to ram home the rebound on Ceci's outside shot. He almost got another, sprawling to slam in a rebound half-way through the second. He blasted Brian Dumoulin into the boards in the third, taking a penalty. He took a fight with Vince Dunn, who was looking for retribution. He bulled his way up the ice to set up a Ryan harpoon late in the game, but the one-timer hit the post. GAS: ES +4/-0; ST +0/-0
Sam Gagner, 5. His quietest game yet this season. GAS: ES +0/-0; ST +0/-0
Article content
Derek Ryan, 6. Best game of the season. He won the puck in the slot and passed back to Ceci, kicking off the Virtuous Cycle on Edmonton's fourth goal. He took a hard, inadvertent hit in the second that sent him in pain to the bench. But he was out soon enough. And he also got more ice time this game. Finally! Ryan was the Oil's best bottom line player in the 2023 playoffs, but he's hardly been used this year. He did get beat to the puck on Larsson's great chance in the third. Ripped a one-timer in the third off the post. GAS: ES +3/-1; ST +0/-0
Raphael Lavoie, 4. He lost a board battle early on, leading to a hard Kraken high slot shot. He got on the ice just 4:11. GAS: ES +0/-0; ST +0/-0
Darnell Nurse, 7. Solid all game. He put an outside shot on net that Holloway almost slammed home in the second. A solid takedown of Eeli Tolvanen at centre ice in the second. GAS: ES +1/-1; ST +0/-0
Cody Ceci, 6. Back to his reliable self after one or two iffy games. His shot off the boards got put home by Holloway for a goal.  He failed to take out Jaden Schwartz at the side of the net on Seattle's first goal, but a hard play as Schwartz used his skate on the deflection. GAS: ES +1/-0; ST +0/-1
Article content
Mattias Ekholm, 6. Solid work. But he failed to cover off Yanni Gourde in the slot on Seattle's first 5-alarmer. He got caught up ice on a 2-on-1 in the third. GAS: ES +0/-1; ST +0/-0
Evan Bouchard, 7. Some bad, more good. He hard-wristed the point shot on net that Hyman whapped home for Edmonton's second goal. He got caught behind the net, leading to a wicked opportunity for Seattle on the pass out front, but Matty Beniers could not handle the pass. His  well-executed slide block thwart a Seattle 2-on-1 in the third. He hustled back hard in the third to take away a Grade A shot from Kailer Yamamoto. GAS: ES +0/-1; ST +1/-0
Vincent Desharnais, 7. Best game of the year for him as well. He made a stretch pass to kick off a dangerous rush in the second. GAS: ES +1/-0; ST +0/-0
Brett Kulak, 8. I'm loving Kulak's play just now. He just keeps cranking out the quiet, super steady games. His skating and solid reads have made him a player Woodcroft can count on. GAS: ES +0/-1; ST +0/-0
Stuart Skinner, 9. Oilers got off to an iffy nervous start, then he made a massive, massive save four minutes in on Yanni Gourde's hard pass-redirect. Things were fairly quiet after that until Oliver Bjorkstrand snapped a hard slot shot on net late in the second. He had zero chance on the Seattle goal. His second huge save came five minutes into the third, thwarting Adam Larsson on a rebound chance. That's the kind of goal against teams have regularly got against the Oilers. But not this game, my friends.
Article content
Staples on politics
With one sharp move, Alberta finds way to get hundreds of new primary caregivers for family doctor role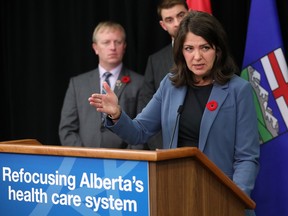 At the Cult
STAPLES: Oilers lose their most prominent fan
McCURDY: Keep Woodcroft for now
Staples: Out of touch Oilers may cost Woodcroft his job
LEAVINS: Game grades vs Sharks