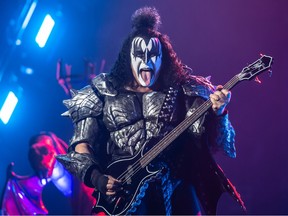 Reviews and recommendations are unbiased and products are independently selected. Postmedia may earn an affiliate commission from purchases made through links on this page.
Article content
Friday night was the last time you will ever see KISS in Edmonton.
At least until they get the animatronics up and running, or they franchise the concept. There are plenty of possibilities to keep KISS going until mankind blows itself up, just as a final Beatles song will be released every year into eternity based around a series of half-composed melodies John Lennon once hummed into a hand-held tape recorder. This is the future, friends, and I implore you to embrace it.
Article content

After all, you don't need the real Gene Simmons spitting blood during the extended intro to God of Thunder, just a reasonable facsimile. This isn't to say Simmons himself can't carry the load at 74; his voice remains in fine form, and he can still walk around in those 10-pound boots, blowing flames and ripping riffs on his bass axe. Guitarist Paul Stanley, not so much. Sure he's still a master of unintentionally hilarious stage banter, but boy is that voice shot. Do we care? No! The crowd has the chorus to I Was Made For Loving You all locked up, so just concentrate on wiggling that butt and holding your guitar over your head, Paul.
Article content

We don't care because the stage explosions and general spectacle of any KISS concert remain as astonishing as ever. The rock 'n' roll equivalent of the Marvel Cinematic Universe, you may come for Detroit Rock City or Strutter, but you stay for the stage cats with glowing eyes and the giant statues of Stanley, Simmons, lead guitarist Tommy Thayer and drummer Eric Singer set in the corners of the arena like watching gods. Detroit Rock City kicked off the set, by the way, but there was no Strutter, which would have been enraging except that they played a killer Love Gun after Stanley ziplined to a secondary stage as though he was off to defeat Thanos.
Article content

If you're a KISS fan you've seen all this before, maybe even in the same song order. Thayer, who has been an auxiliary member since the '90s and a full touring member after taking over from Ace Frehley in 2003, shoots out the stage lights with laser beams from his guitar. Simmons, who some may know better as a fill-in bassist for The Melvins, blows fire and glowers menacingly at the audience. And Singer drums along with the bubble gum-chewing insouciance of a pro who could just as easily be playing with James Taylor or Megadeth. It was Singer who deftly tackled Beth, the very un-KISS-like piano and strings ballad first crooned by original drummer Peter Criss. Was it as epochal as the version performed on The Paul Lynde Halloween Special in 1976? No, it was not, but how could it be?

Some of the many high points included Cold Gin, Deuce and God of Thunder, while Say Yeah (from 2009's Sonic Boom) represented the dullest four minutes of the evening, along with the endless, back-and-forth Thayer-Stanley guitar squiggle duel before Psycho Circus. Black Diamond was a treat for those of us introduced to it by The Replacements' version. Heaven's on Fire and Lick It Up have, astonishingly, aged quite well, or maybe they've been putting something in the water that's softened the cynical hearts of Gen X-ers. The huge sag in the middle of the concert was unfortunate, but at least we got to hear Stanley at his most wildly rambling and Simmons at his lewdist in Calling Dr. Love.
Article content

Listen, you don't have to like KISS to acknowledge the band's mastery of the most ridiculous aspects of the genre while writing certified bangers. You can hate Simmons for whatever obnoxious thing he said last week, or cringe at the beautiful absurdity that is Paul Stanley, but you'll never be in a Howard the Duck comic, and you'll never be namechecked in a Wilco song. Young kids will never painstakingly copy out your logo on their binders, and there will never be a movie with you in it where you kung fu fight an animatronic version of yourself, as KISS did in KISS Meets the Phantom of the Park. Most importantly, there will never be an army of devoted fans minutely scrutinizing everything you do on their YouTube channel.
Article content

Which loops us back to the beginning of this review — now that Simmons et al are putting the brand to rest, just where are they storing those animatronics?
REVIEW
KISS
With Crown Lands
When Friday, Nov. 10
Where Rogers Place
Related Stories
From a Citadel workshop to Broadway, award-winning Hadestown returns to Edmonton

Alberta skater comes home as Cinderella in Disney on Ice this weekend