Plus, Paula Kirman's sequel, Monumental Secrets, looks at the Shukhevych bust and how we handle controversial civil monuments
Reviews and recommendations are unbiased and products are independently selected. Postmedia may earn an affiliate commission from purchases made through links on this page.
Article content
A new documentary about a First Nations family who discovers the transformative power of love premiered at MacEwan University's Betty Andrews Theatre Monday, and is now available for the public to watch online.
Intergenerational Resilience: Sharing Stories from Families of Residential School Survivors follows the Cardinal family as they navigate the path to healing after experiencing generations of trauma as a result of the residential school system.
Article content
Presented by the Gord Downie & Chanie Wenjack Fund (DWF) as part of the events for National Day of Truth and Reconciliation, the film features DWF ReconciliACTIONS manager Joel Cardinal, who also directed and produced the project.
"We talked about interviewing a family that was impacted by residential schools," says Joel. "We decided on that before deciding that it was going to be my family. I was asked if I could ask my family, and I knew — given my family's work in Indigenous education and wanting to create awareness about residential schools — that my family would definitely be supportive."
Joel's work with DWF ReconciliACTIONS seeks to provide Indigenous cultural competency training to organizations to create "safe and welcoming" spaces for Indigenous education and understanding. Prior to DWF, Joel worked at a law firm for several years where he heard hundreds of stories of abuse from survivors of the residential school system.
Joel's father, Elder Joe Cardinal, is also a survivor of the system and the basis for the film.
"We very consciously decided that we didn't want to focus on trauma," says Joel. "What we wanted to focus on and share was the resiliency that has helped our family reconnect with our cultural identity. A big part of our messaging is talking about ceremony, about doing things in a good way. That was very important to our family, that we honour our traditions and protocols."
Article content
One of Joel's siblings is MacEwan instructor and director of Indigenous initiatives, Terri Cardinal, who also appears in the film. Terri says she had a different perspective about the trajectory of the film.
"Going into it, I wanted to focus on the trauma," says Terri. "Because in my research I have found that it is important for survivors to be able to tell their stories. It's important for people to hear these stories and understand what impact Indian residential schools had on Indigenous people."
Joel says the theme of love emerged naturally as they spent time together and shared the stories as a family on film.
"We all talked about love and the importance of love and how love was stolen from the children in residential schools because they never felt it, they were never told it," he explains.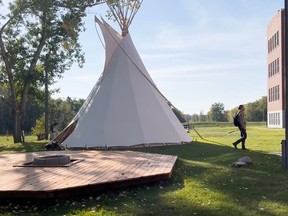 For Terri, the connection between love and healing was evident at an early age from her interactions with her dad, who is a residential school survivor.
"I oftentimes was telling my dad that I loved him, over and over repeatedly, until he was able to say it back," says Terri. "One of the things my dad talks about is how his children taught him love."
Article content
The film is now available for the public to watch for free on the Downie Wenjack Fund Facebook page, and on Youtube.
Monumental shift
Local multimedia artist Paula Kirman released a new documentary Friday digging into one of Edmonton's most controversial memorials.
Monumental Secrets is the second film produced by Kirman, which explores the subject of the Shukhevych bust at the Ukrainian Youth Unity Complex. The bust memorializes Roman Shukhevych, a Second World War Ukrainian nationalist and military leader who fought against the Soviet Union for Ukrainian independence. However, Shukhevych is also considered to be a perpetrator of the massacre of tens of thousands of Polish civilians.
"The underlying message is to raise awareness of the monument itself," says Kirman. "But also to acknowledge that we need to have these difficult conversations about when this kind of knowledge is revealed, to try and come up with a solution about what to do about it."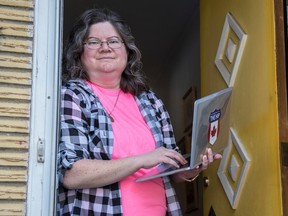 The bust has been the source of much-heated debate since its high-profile vandalism in 2021. However, local groups have been calling for its removal since its erection in 1973. The film highlights arguments posed over several other named places and memorials found in the city. 
Article content
The film has encountered its fair share of challenges in being released. First, COVID-19 and then the Russian invasion of Ukraine.
"Just as we were finishing production, that was when Russia invaded Ukraine," says Kirman. "So we finished the film but felt that it would be inappropriate to release it at that time. When the incident in Parliament happened about a week ago, we felt that it would be in the public interest to release the film online to raise awareness so that we can keep having these conversations."
The new film is a sequel to Kirman's previously released 2018 project called A Monumental Secret, which dives into the controversy of a memorial at St. Michael's Cemetery for Ukrainian Soldiers. Kirman produced both films alongside local filmmaker Adam Bentley. Watch Kirman's first film
here
, and the latest release
here
.