Article content
Segment review #1, Games 1-10
In preseason polls a few short weeks ago, Edmonton Oilers were frequently lauded as a top Stanley Cup contender. How's that working out for them?
Article content
So far, so not good. 10 games into the 2023-24 season, the Oilers languish at the bottom of the NHL standings, ahead of just the winless San Jose Sharks but behind all other NHL teams, all 30 of whom have more wins than the miserable 2 the locals have logged to date.
Article content
Just like that, the Oilers find themselves in what, even if successful, might be a season-long battle to simply qualify for the post-season. It's a mess.
What in the heck happened?
Season to date by segment
2022-23
Games 1 – 10: 7-3-0, .700 | 41 GF, 32 GA | 334 SF, 338 SA | 1.028 PDO
Games 11-20: 3-7-0, .300 | 25 GF, 40 GA | 304 SF, 346 SA | .964 PDO
Games 21-30: 7-3-0, .700 | 43 GF, 30 GA | 317 SF, 313 SA | 1.040 PDO
Games 31-40: 4-4-2, .500 | 33 GF, 31 GA | 332 SF, 289 SA | .992 PDO
Games 41-50: 7-1-2, .800 | 45 GF, 28 GA | 367 SF, 310 SA | 1.032 PDO
Games 51-60: 4-2-4, .600 | 43 GF, 36 GA | 360 SF, 324 SA | 1.008 PDO
Games 61-70: 7-3-0, .700 | 44 GF, 34 GA | 295 SF, 323 SA | 1.044 PDO
Games 71-80: 9-0-1, .950 | 44 GF, 22 GA | 364 SF, 289 SA | 1.045 PDO
2023-24
Games 1-10: 2-7-1, .250 | 27 GF, 41 GA | 334 SF, 302 SA | .945 PDO

In this section we look at the 10-game record including outcome stats in wins and goals, and process stats including shots and PDO. The latter is a short form of expressing shooting percentages at both ends of the ice, and while highly volatile it is a very telling indicator of short term success.
Through the first 10 games of the new season, the Oilers did OK with a shot share approaching 53%, but a dreadful goal share a shade below 40%. Why? Because Edmonton scored on just 8.1% of their shots, while their opponents converted at a rate of 13.6%. The Oilers percentages (8.1% Sh%, .864 Sv%) add to a dismal PDO of .945, better than only the dreadful Sharks, who just became the first NHL team to give up 10 goals in consecutive games since the pre-Bobby Orr Boston Bruins of 1965.
Article content
While outshooting one's opponent is a solid base, it is ultimately the ability to convert those shots which has the bigger impact, especially in the short term. Just look at last year's segments, where PDO plummeted in the second segment to a lowly .964, and with it the Oilers record to an ugly 3-7-0. Barely better than the one just concluded. Digging further, we can see 2 segments within a few points either way of 1.000 led to break-even results; in the other 5 the Oilers were north of 1.025 and won at least 7 of the 10 games each time. On the season, Edmonton's all-situations PDO of 1.018 ranked third in the NHL, founded in a league-best shooting percentage of 11.8%. Simply put, the Oilers created better-than-average shooting opportunities and/or did a better job of finishing those looks.
This has been a common element to the Oilers during the Ken Holland era.

Over the past 4 seasons, the Oilers have ranked 6th, 4th, 13th and 3rd league-wide in all situations by this key indicator, in the green — and in the top half of the NHL — each and every year. The occasional stretches of games with poor percentages have ended badly indeed. The 2 worst segments of those seasons, both 3-7-0, featured PDO's of .964 and .965. The next worst stretch of 3-6-1 had a PDO of .966. Those were the 3 worst of the 28 segments in both categories.
Article content
Now comes the opening segment of 2023-24, at 2-7-1 the worst of the Holland era. So too is its wretched PDO of just .945.
The encouraging thing here is that in the past the Oilers have shown a consistent ability to bounce back from a bad segment. True, they muddled about for a significant stretch in 2021-22, leading to a mid-season coaching change; otherwise the turnaround tended to happen quickly.
That said, I don't entirely accept the suggestion in some quarters that PDO is simply an expression of "puck luck". That's some of it, for sure, but there is also an element of shot quality at both ends of the rink, and of execution of same. To this point, the Oilers haven't been making their shots, nor have they been making enough saves. But they've also been guilty of giving up way too many high-end chances. To wit: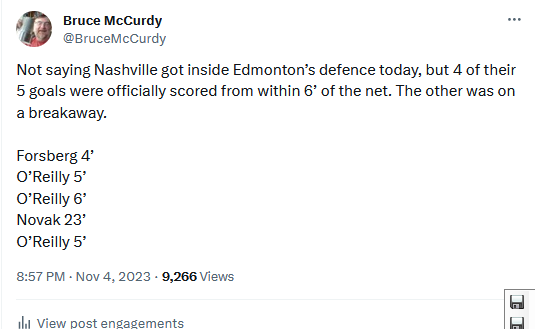 Our analysis here at the Cult of Hockey shows the Oilers have generated a respectable 52% of Grade A shots so far this season, but just 47% of the subset of higher-danger chances we call 5-alarm shots. More alarming is Edmonton's 42% of rush chances at 5v5, and just 25% of goals off such plays. Of the 30 shots that opponents have generated off the rush, a staggering 18 (60%!!) have resulted in goals. That's a save percentage of just .400, not a number one sees often. And while the goalies must bear their share of the responsibility, it's hardly just on them. Some of odd-man rushes the squad has allowed have been 10-alarm fires.
Article content
Going the other way the Oil have converted 6 of 22 shots created off the rush, a 27% conversion rate. That's a big difference in number of opportunities, but a far bigger one in the conversion rate of same, and a big part of that ugly PDO in the opening 10 games.
Can they turn it around? The simpler question is, how can they not? For starters, the "puck luck" aspect is certain to moderate.
But there are ongoing concerns about the health of the Oilers' one-man rush generator. Connor McDavid had a slow start, missed a couple of games with injury, then come back with a series of so-so performances. He's scored just 2 secondary assists in the 3 games since his return, despite being tasked with nearly 24 minutes a night in those games. The state of McDavid's health and by extension his game, is a huge concern going forward. Consider the following uncharacteristic facts:
He's currently on the second page of the NHL scoring leaders, in a 24-way tie for 57th place with 10 points. Granted, #97 has played 2-4 fewer games than those tied or ahead of him, but even a 17th-place ranking in points-per-game is unfamiliar territory for the 5-time Art Ross winner.
In his 8 games to date McDavid has yet to be selected as one of the three stars, highly unusual for the league's top game-breaker.
Among those to wear the Oil drop so far this season, McDavid ranks a shocking 21st and last in expected goal share. Indeed he is the only member of the squad below 50% by this commonly-used advanced metric. This compares to a 58% share over the prior 3 seasons, by some distance the tops among Oilers forwards as one might expect. While the formula is by no means perfect, the same rules apply to all and McDavid's current placement is startling in the extreme.
Article content
The other side of the equation is shutting down the jailbreaks going the other way, which will surely be the subject of intense focus from the coaching staff in the immediate future. It doesn't help that a key defensive player, Mattias Ekholm, has also been dealing with injury since training camp. While his game is slowly coming around, he's not yet found the high level of play that sparked the Oil to an 18-2-1 run after his arrival at last season's trade deadline.
But it's hardly been just Ekholm's pairing with Evan Bouchard that has been getting burned. Indeed, it hasn't been just the blueliners who have been at fault on such plays either. It is a team wide issue that has snowballed into an avalanche of pain.
How painful? As of Sunday morning the Oilers ranked dead last in the NHL with a staggering -19 goal differential vs. what might be expected based on flow of play.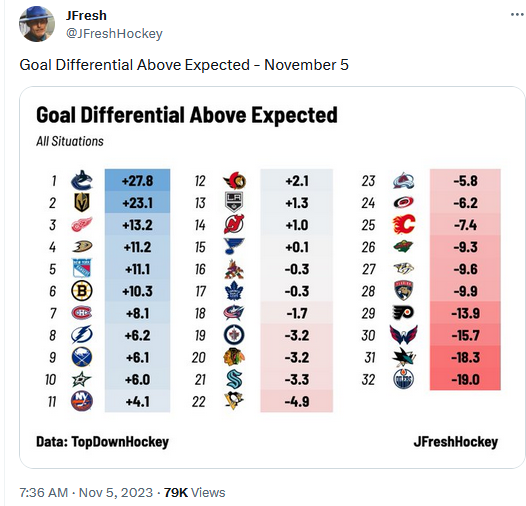 Compare to the #1 team in this category who the Oilers will face on Monday night. As cold as the Oilers have been, the Canucks have been that hot. Time for some good ol' regression to the mean at both ends of the spectrum, what?
Article content
Let's turn now to individual results for the opening segment.
Goalies

Those are pretty dreadful numbers right across the board, and for both 'tenders. The argument can be forcefully made that they haven't had a lot of help at times, but just as strongly volleyed back that they haven't made a habit of bailing out their teammates' mistakes which tend to wind up in the back of the net far too frequently.
Of the two, Jack Campbell has the somewhat better save percentage but substantially worse goals-against average, as he has been deluged with 35 shots per 60 minutes compared to just 26 for Stu Skinner. Each man has held his opponent under 3 goals just once, performances that coincided with the 2 Edmonton wins. In their 7 regulation losses the Oilers allowed 35 goals, a shocking 5 per game.
Defence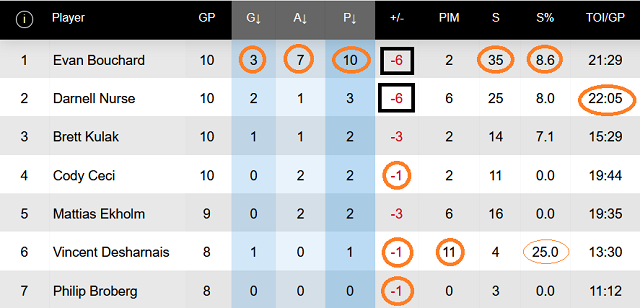 Evan Bouchard leads the way with 10 points, equaling the combined total of the other 6 rearguards. 6 of Bouchard's points have come on the powerplay, while his 4 even-strength points (and 2 goals) are double the numbers of any other d-man.
Of concern is the sea of red ink that can be seen in every cell of the plus/minus column, with ice time leaders Darnell Nurse and Bouchard sharing the poorest such mark of -6. The red figures stand in stark contrast to expected goal share of 55% to 61% for each blueliner at 5v5. These weird outcomes are part and parcel of the shot/save percentage issues raised earlier.
Article content
Forwards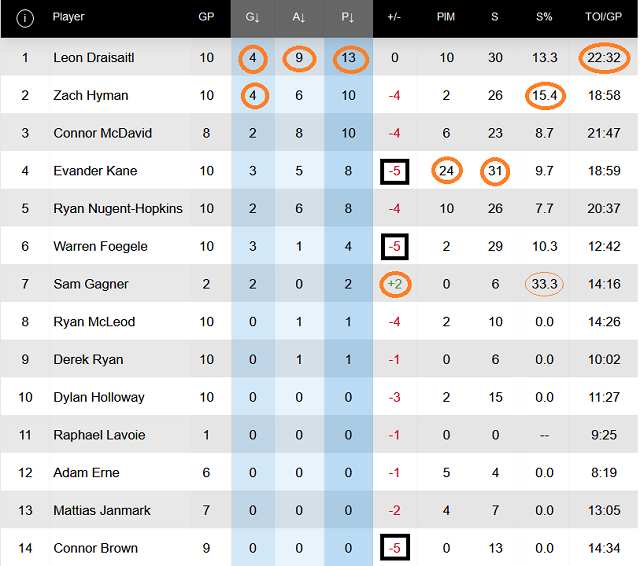 A clear divide between the 5 forwards at the top of the pay scale and the others, at least in terms of point production. Goal production is down across the board, with nobody currently on pact for as many as 35 goals. Last year no fewer than 4 Oilers topped this mark. The pleasant surprise here is Warren Foegele whose 3 even-strength goals are tied with Zach Hyman for the team lead.
Another sea of red in the minus column, with only prodigal son Sam Gagner on the plus side of the ledger, and just Leon Draisaitl even. Again this is at odds with expected goal share. This just in: expected goals are useful indicators, but they do not win hockey games.
Player grades

We close in our usual fashion by reviewing the set of 10 games through the lens of our own subjective ratings here at the  Cult of Hockey. Regular readers will know that we grade on a scale of 1 to 10, the performance of every Edmonton Oilers player in every game the team plays, based on a combination of observation and interpretation of statistical output. Here are average grades for Games 1-10 along with our customary thumbnail comment summarizing each player's contribution over that span:
Article content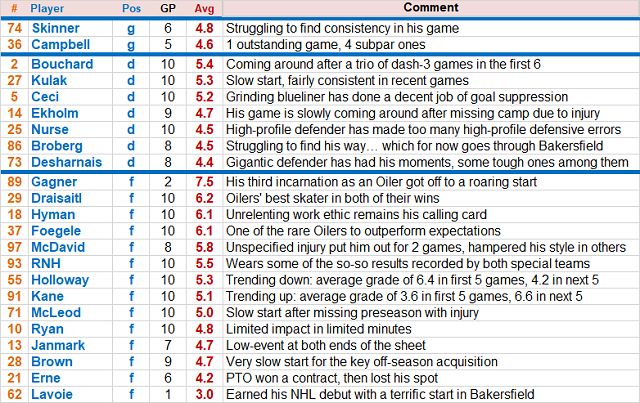 Results by grader, first segment:
David Staples – 5 games, 0-4-1, average grade 4.8
Bruce McCurdy — 3 games, 2-1-0, average grade 5.6
Kurt Leavins – 2 games, 0-2-0, average grade 4.8
Segment totals – 10 games, 2-7-1, average grade 5.2
Recently at the Cult of Hockey
STAPLES: Joel Quenneville chat premature, Jay Woodcroft needs a proper chance to turn things around
LEAVINS: 9 Things, mostly on Woodcroft and the Oil's iffy start
STAPLES: Yet more mental errors cost the Oilers another 2 points versus Nashville
McCURDY: Ugly errors doing in Oilers just now
STAPLES: Raphael Lavoie finally gets the call
McCURDY: Philip Broberg gets sent out as Oilers deal with injuries up front