Article content
The funeral for a mother of seven who loved family, being outdoors and sewing, is being held Saturday in northern Alberta two weeks after she was killed swerving to avoid pipe that fell from a flat-deck semi that Slave Lake RCMP are still searching for.
Slave Lake RCMP were called to the fatal collision on Highway 44, near Highway 2 and Township Road 684, around 6 p.m. on Oct. 1. They ask that anyone with information about a semi in the area, roughly 160 kilometres north of Edmonton, pass tips on to police.
Article content
Nichole Didzena said her mother, Jill Didzena, was heading from Edmonton home to Bushe River, 700 kilometres north of Edmonton, with her youngest daughter, 20, in the passenger seat when some pipe fell off the truck, bounced and crashed through the driver's window.
"They left Edmonton on Sunday, Oct. 1 to head home," Didzena said. "And after Flatbush, there was a little bridge — it was after Flatbush and Westlock. There's a smaller bridge they were crossing. While they were crossing, they were met with a southbound semi."
Didzena said two pipes fell off the semi and when her mother swerved to avoid having them crash into the passenger's side, one went through the driver's side, killing her.
She believes her mother's actions saved her little sister's life.
"She had seven kids. And she loved all of them. She loved all her grandchildren," said Didzena. "You know, she loves sewing and being out in nature."
Her mother's funeral is being planned for 2 p.m. Saturday near High Level, at Bushe River, part of the Dene Tha' First Nation in Treaty 8 territory.
The ordeal has traumatized her little sister, said Didzena.
Article content
"This poor girl still has all the trauma and work through all of it," she said. "It's going to be a long journey and I can't speak on that for her."
Slave Lake RCMP are still trying to identify and speak to the driver of the semi that was pulling the flatbed they say was loaded with industrial equipment. They called for tips on the Sunday evening that the fatal crash occurred.
Days later, dash camera footage provided to RCMP showed the truck in question is white in colour with a flat deck. A circular symbol can also be observed on the front driver's side door of the semi.
Didzena is hopeful the driver of the truck will just "come forward."
"It would be really hard not to notice two big pipes flying out your truck," she added.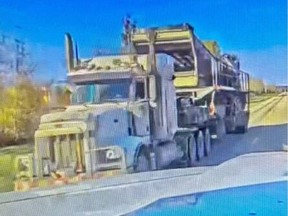 Anyone with information about the case or those who are able to identify the truck are asked to contact the Slave Lake RCMP at 780-849-3999. Those who wish to remain anonymous can contact Crime Stoppers at 1-800-222-8477 (TIPS), online at www.P3Tips.com or by using the "P3 Tips" app available through the Apple App or Google Play Store.
Related Stories
Woman, 23, charged with first-degree murder in west Edmonton shooting death

Horse Lake First Nation man charged with second-degree murder
Share this article in your social network