Article content
Television's Ice Pilots have plans to go where no cargo has gone before.
Buffalo Airways and YEG (Edmonton Internationa Airport) on Friday said a new customized Boeing 737-300SF "Special Freighter" would allow the airline of reality TV fame to establish the first and only direct flight from Edmonton to Yellowknife dedicated to cargo.
Article content
"I have spent the last two years preparing for the arrival of this aircraft, and I can't wait to witness the remarkable impact it will have on our operations," Mikey McBryan, general manager of Buffalo Airways, said in a news release.
Article content
The customized jet is fitted with a cargo door on the side of the fuselage and can pack 10 pallets or containers of cargo, according to an unrelated company that specializes in converting aircraft. It will fly Monday to Friday, bringing pharmaceuticals and health-care products, food, time-sensitive automotive and other manufactured parts and retail stock.
The current system that usually sees cargo driven to Hay River and flown into Yellowknife has reached capacity, according to the company, which asserts the new aircraft will allow it to "set a new standard for overnight freight services in the region."
YEG is the fifth-busiest airport in Canada by passenger traffic, generating an economic output of over $3.2 billion and supporting over 26,000 jobs, based on pre-pandemic data.
CEO Myron Keehn said in the release that the new dedicated freighter would improve connectivity between the regions and the Northern supply chain.
"We welcome this new service with our partners Buffalo Airways to introduce this critical link to our Northern neighbours."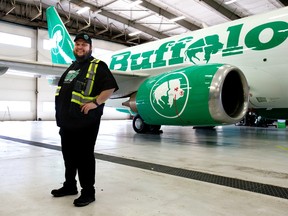 Share this article in your social network