Plus, Schmidt revives an ancient Greek love story, Walterdale's season launches with Arthur Miller and award-winning playwright returns home with new work
Article content
"I'm a singer. It's part of my DNA," says Sandy Paddick.
She's also a playwright, and that particular combination of talents has led to Crescendo! which debuts Oct. 18 at the Varscona (10329 83 Ave.) as part of Shadow Theatre's 30th anniversary season.
Article content
Running through Nov. 5, Crescendo! (a world premiere) is a play, with songs, that tells the story of a women's choir. Kate Ryan directs the play, which features original music by Jennifer McMillan. Shadow artistic director John Hudson (also Paddick's husband) is the dramaturge for the production, which features Jenny McKillop, Kirstin Piehl, Cathy Derkach, Michelle Diaz and Colleen Tillotson.
Article content
Crescendo! was inspired by Paddick's own experience in an Edmonton women's choir, which she joined in 2015 as a way to provide a focus for her life outside of her role as a mother. She became interested in the reasons her fellow singers joined the group.
"I asked people, 'What brought you to the choir? Why do you sing?' That kind of inspired me to delve further," says Paddick.
Anyone who has ever joined a choir, particularly as an adult, knows learning the music and harmonies takes time and commitment, but that effort often results in a transformation.
"It feels wonderful to sing with other people, but it also releases endorphins," says Paddick. "You can go into choir feeling grumpy and come out feeling great."
Crescendo! was workshopped in 2017 through the Alberta Playwrights' Network and had its first public audience at the 2019 Edmonton Fringe Festival. The story follows a particular member of the choir who, one day, cannot find her voice.
"It's about that kind of journey," says Paddick. "What happens when you can't sing when it's been so part of your life?"
Though the narrative deals with loss, Crescendo! makes a joyful noise.
Article content
"That's who I am — I believe in joy," says Paddick. "But the reality is that life can be very sad so there is that arc. But it's about coming together and finding joy and peace and love."
Tickets for Crescendo! start at $25 and are available through shadowtheatre.org or by calling 780-434-5564.
NLT's new season set to soar
Meet-cute stories are the lifeblood of the dating scene. But locking eyes in a crypt? That's an unexpected variation audiences can look forward to when A Phoenix Too Frequent debuts Oct. 6 at Northern Light Theatre.
Written by Christopher Fry and directed by NLT's Trevor Schmidt, the comic play explores what happens when a woman in ancient Greece (Julia van Dam as Dynamene) becomes a widow. She's determined to join her dead husband in the underworld until a young soldier (Brennan Campbell as Tegeus) turns her head. Ellen Chorley plays the wisecracking maid, Doto.
Written in 1949, the play was produced in 1978 by NLT, coming to Schmidt's attention as he cast about for plays for the 2023/24 season.
"I decided to go through the archives for a callback to something we had done before," recalls Schmidt, who is also the costume designer for the production. "I had read it a few years ago. It's very sweet, very literate, it's got a really highly poetic, evolved language."
Article content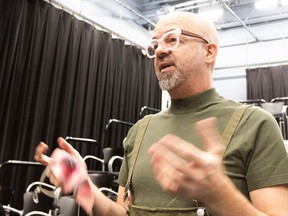 Though rooted in a distant millennium, the one-act has the sensibility of a 1950s movie such as The Ten Commandments. Think Cleopatra in a bullet bra and shellacked hairdo.
"We're working really hard not to just do a large slap of poetic delivery," says Schmidt. "Each thought has to be very specific and there is room to switch and flip around quickly with emotional states. It's all stylized and heightened."
A Phoenix Too Frequent is the first show of the NLT season. Next up in January 2024 is Donna Orbits the Moon, by Ian August. Starring Patricia Darbasie in a one-person performance, the play is about a suburban wife and mother in Minnesota who begins to have out-of-body experiences.
"She starts to hear a voice talking to her and imagines her body in outer space and realizes that the voice speaking to her is Buzz Aldrin," says Schmidt. "It's a funny and tragic look at this woman's journey of self-discovery."
The last show of the season is a new creation by Schmidt himself. It's called Candy and the Beast — a murder mystery/thriller about a teenager named Candy (Jayce MacKenzie) and her younger brother Kenny (Bret Jacobs). The two are determined to track down a trailer court serial killer using only their wits and a Ouija board.
Article content
"It's a coming-of-age about that time between being a child and being an adult. For me, it's a lot about economic status and class," says Schmidt. "It's a very experimental presentation."
A Phoenix Too Frequent runs through Oct. 21 at Studio Theatre (Fringe Theatre Arts Barns, 10330 84 Ave.) Tickets start at $20 and are available at northernlighttheatre.com or by calling 780-471-1586.
Arthur Miller classic
The Walterdale Theatre presents Arthur Miller's All My Sons from Oct. 11 to 21. Directed by John Anderson, the community theatre production tackles some of Miller's most penetrating themes, including loyalty and the relationship between fathers and sons. Tickets are $25 at walterdaletheatre.square.site, and the theatre is located at 10322 83 Ave.
Edmonton native returns with new work
Award-winning Edmonton/Toronto playwright and actor Makram Ayache (Harun) brings a new work back home with the debut of The Hooves Belonged to the Deer. Kicking off Oct. 24 at the Westbury Theatre (Fringe Theatre Arts Barns, 10330 84 Ave.), the show runs until Nov. 4.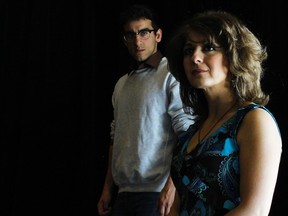 The play tells the story of Izzy, a young, queer Middle Eastern boy living in a rural town who finds himself the focus of attention of the local pastor. Ayache first penned the story in 2020 as part of the Alberta Queer Calendar Project. Later, the play found its way to Toronto, where Buddies in Bad Times produced it as an audioplay before Tarragon Theatre gave it a world stage premiere during the company's 2022/23 season.
Now Edmonton's In Arms Theatre Collective (with the support of Fringe Theatre Adventures) brings the story to you. Intrigued? Tickets start at $18 through tickets.fringe.ca.
Related Stories
REVIEW: Wilde's classic, screwball comedy opens the Citadel's new season

The Play's The Thing sees 20 local theatre companies take on Hamlet