BILD Alberta award-winning designs add flexibility and beautiful new living spaces to gardens and laneways.
Reviews and recommendations are unbiased and products are independently selected. Postmedia may earn an affiliate commission from purchases made through links on this page.
Article content
Backyards are no longer taking a back seat when it comes to secondary living quarters.
If you didn't know better, you would think two of the three finalists in the recent BILD Alberta awards garden suite category were actually single-family homes.
Article content
In fact, the winner in the category, from Edmonton's Habitat Studio, looks like someone placed a single-family home in someone's oversized backyard — and this one even includes an elevator.
Article content
"The garden suite was designed to blend in with or match the main house, so that was the inspiration for the design," said Trevor Hoover, Habitat Studio's president, of the west end Laurier Heights Unio project judged to be Alberta's top Garden/Secondary Suite at the 2023 BILD Alberta awards in Banff last month. "The property has a single-family home with front-attached garage, but they wanted their parents to move in so we designed and built them a garden suite for their parents to age in, thus the elevator."
Unio, said Hoover, is different than most garden or garage suites as it has living space on both the main and second floors, whereas most see the living quarters solely on the upper level with usually just the garage on the main floor. This change, added Hoover, allowed them the space to fit in things such as an elevator.
While Hoover calls the home "cozy," it's modern, spacious and bright inside.
"It has all the amenities that a regular single-family home has: bedroom, ensuite, kitchen, dining, family room, sitting room, powder room, mud room," said Hoover. "It's also more energy efficient than a standard home or garden suite, as are all our projects. The exterior walls, for example, are R-28, not R-20."
Article content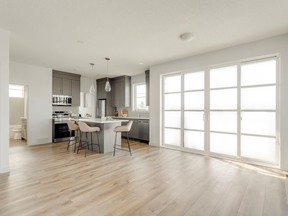 Also feeling more like a single-family home is Calgary's Little Remington Road project, a finalist in the category, from One-of-One Building Collective.
Inside this inner city Ramsay neighbourhood home you wouldn't think this multi-generational living space — built for the client's retiring parents — is a secondary suite.
"Our clients achieved the remarkable blend through meticulous planning and thoughtful collaboration with architect Shirley Orr," said Gabrielle Bieber, partner, One-of-One Building Collective. "Together, they prioritized the allocation of space by identifying and addressing their day-to-day needs. Natural light was utilized through strategic window placement, complementing the open-concept kitchen-living room, oversized bedroom and a multifunctional laundry/storage/office space ensuring an airy, well-lit ambiance throughout. The outdoor living space is flanked by double patio doors that allow for a seamless indoor-outdoor flow when both pushed aside and opened."
Changing Perceptions
Urban sprawl, the pandemic, and higher interest rates: three factors driving growth and interest in secondary suites.
Article content
"Since the pandemic hit, we have seen a general increase in garden or secondary suites," said Bieber. "Sheltering in place during that time, many with family and/or with friends, perhaps challenged the typical North American perception of living arrangements and opened many minds to different kinds of living arrangements, in addition to size and the overall expectations and functionality of a home."
Similarly, Hoover also sees perceptions shifting.
"There are certainly a lot of conversations happening around urban sprawl, and looking inward rather than building outward," said Hoover. "From the onset, it allows neighbourhoods and homeowners to consider additional tenants and density in the build phase. As our economy continues to change, and mortgage rates are recovering from the pandemic, many homeowners are taking advantage of the opportunity for additional space on their lot, as well as considering additional income to support a mortgage payment."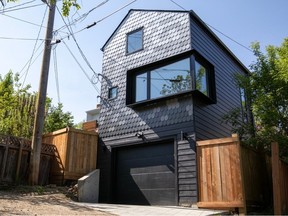 Laneway Lens
Inspired by changes in Edmonton's policy allowing for garden suites, Kairi and Marty Pawlina, both land development industry professionals, decided to see what could be possible for an underutilized space in the backyard of their 113-year-old home, which features river valley views. Their recently completed laneway home, known as Cliff Lane, was also a finalist in the BILD category.
Article content
Cliff Lane is a 371-square-foot laneway, New York loft inspired home built by Alair Homes above a single garage. It's Edmonton's smallest laneway home, complete with a loft, full kitchen, full bathroom, living room with a fireplace, laundry, and bedroom.
"Cliff Lane blends artistry, architecture, functional design and smart land use planning," said Marty. "Beyond being a stunning home, it represents a shift in housing typologies happening in Alberta, where homeowners are reimaging what's possible in their backyards and alleys."
"We are certainly seeing an uptick in garden and secondary suite inquiries," said Paul McGavigan, partner, Alair Homes Edmonton Central. "It's not only an easy way to build density in neighbourhoods, particularly with the demand that we are seeing for affordable housing, but it's a great way for homeowners to make home ownership or maintenance a bit more affordable themselves. Some inquiries are from investors, but a lot are from homeowners themselves who are exploring what options are out there."