Article content
Another mystifying game at Rogers Place on Thursday night left the Edmonton Oilers, their coaching staff and their loyal fans scratching their heads, if not actively banging them against the nearest wall. By all statistical measures, the home side absolutely dominated the visiting Dallas Stars. Except the only one that matters: Dallas 4, Edmonton 3. In regulation.
Article content
This on a night that fellow Pacific Division playoff contenders Vegas, Vancouver, Los Angeles and Seattle all won, meaning the Oilers are 2 more points behind each of them, and trailiong the top 3 squads in the division by 16, 10 and 9 points respectively. After 9 games!
Article content
True, the Oil have a game or 2 in hand on all of those above, but what are games in hand if you don't win them?
So far in the still-young season, the Oilers have a poor 1-3-0 record on the road, with all 4 of those games decided by 3+ goals. It's at home, and specifically at Rogers Place, where the close games have occurred… with the Oilers coming out on the short end each and every time. (For the purposes of this post we'll exclude the Heritage Classic at Commonwealth Stadium, where unfortunately there are no more home games scheduled until 2043 or so.)
Indoors, the Oilers haven't seized the opportunity to "play La Bamba, baby" since way back on May 10, when they defeated Vegas 4-1 in Game 4 of their second round playoff series. Since then, 177 days, 5 games, 0 wins.
Statistically, the Oil have been the better team in all 4 games at Rogers Place in 2023-24. Here's a recap of a handful of key stats, citing "all situations" rather than "5v5" in all cases.
Article content

Wowsa. Over the 4 games combined, Natural Stat Trick shows the Oilers having produced 63% of the shot attempts, 61% of the shots on goal, 66% of the high danger chances, and a whopping 65% of the expected goals. Actual goals? 36%.
Make it make sense.
One way to do that is to compare the shooting percentages of the Oilers (a brutal 5.1%) vs. that of their opponents (13.7%). Flip it around, opposing goalies have an All-World .949 save percentage, Edmonton's a weak .863. That combines to a dreadful PDO of .914 where the mid-point is 1.000. Which is apparently what it takes to lose 4 out 4 games in which they outshot their opponents by an average of 40-26.
To add insult to injury, 3 of those All-World performances came from the visiting team's backup goalie for pete's sake. In Edmonton's 3 regulation losses, opposing starters Thatcher Demko, Igor Shesterkin and Jake Oettinger have watched from the bench while Casey DeSmith, Jonathan Quick and Scott Wedgewood have stymied the Oil. Meanwhile, Edmonton's #1 netminder, Stu Skinner, has played every minute of every game in Rogers Place to date… and been the second best stopper on the ice each time.
Article content
At the Cult of Hockey we do our own statistical analysis that provide a different light than those based strictly on shot models. We do video analysis to assign and count Grade A shots, which the Oilers led by a narrower margin of 56 for, 43 against =57%. We also track the the more dangerous subset we refer to as 5-alarm chances, which sum to … wait for it … 27 for, 28 against = 49% in those games. And those are the shots likeliest to go in.
That deficit would likely be greater were we to measure what I'll call "10-alarm shots" such as last night's game winner: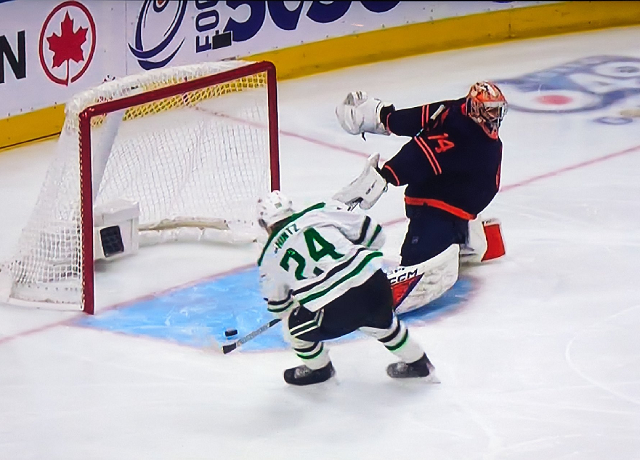 C'mon Stu, make a darn save!!
Thursday night the Oil got smoked for a trio of even-strength goals, all of them off the rush, effectively an odd-man rush in each case. Let's take a quick look at each.
Goal #1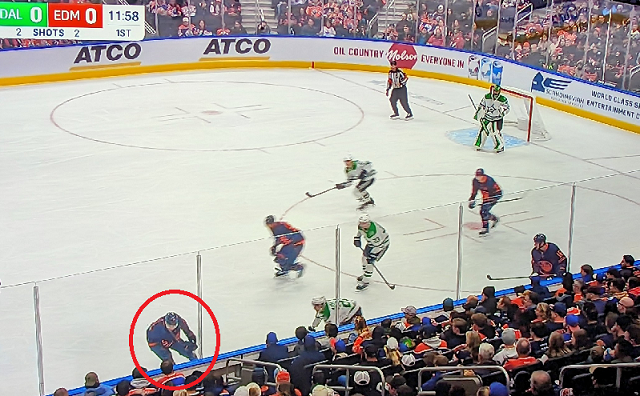 With all 3 Oilers forwards in front of him, Cody Ceci (circled) pinches up the boards in support of Zach Hyman who has lost the initial puck battle. Problem: there are only 3 Stars in front of him as well, meaning the other 2 are behind him. Bigger problem: he lost the battle and the puck was bumped up the boards to a breaking Matt Duchene.
Article content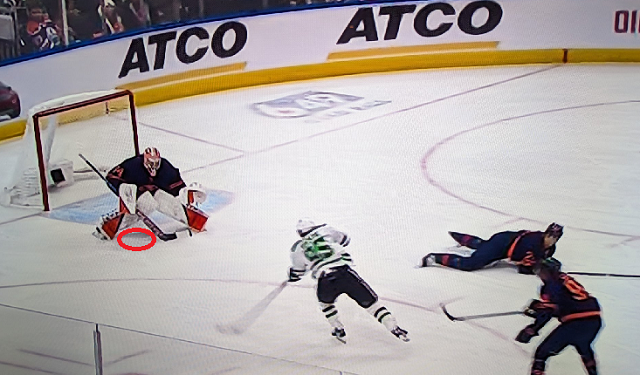 Only Darnell Nurse is back to combat Duchene and teammate Tyler Seguin (not shown, to right of frame) on the wide-open 2-on-1 that ensues. Nurse takes away the passing lane, but is unable to close the angle to the shooter. A scorer of over 300 goals in his career, Duchene walks into prime shooting position, picks his spot between the heel of Skinner's goal stick and his right pad, and makes his shot. Like many 5-hole type goals it isn't as spectacular as a bar-down rocket, but just as effective.
Goal #2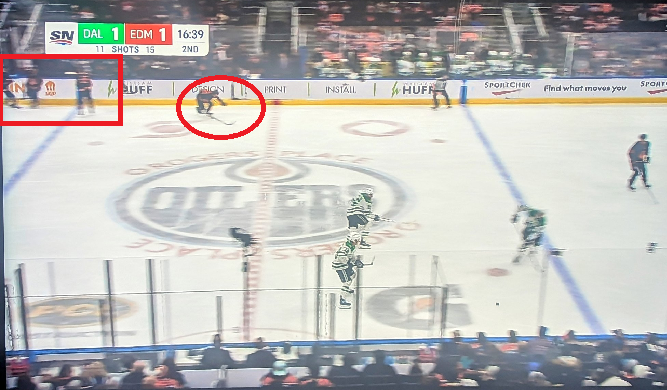 This one also happened fast. Playing on his off-side, defenceman Philip Broberg (circled) has made a good play to rush the puck out of Oilers territory into the neutral zone, then attempted to get the puck deep and make the change, but has whiffed his backhand shot into the zone. The puck immediately heads the other way. Realizing his mistake, Broberg tries to rejoin the play but is miles behind the puck and the 3 Dallas attackers racing up the penalty box side. Worse, all 3 Oilers forwards — notably Dylan Holloway and Ryan McLeod (squared) — have decided to change up, abandoning what might have been decent defensive position in the process. A wide open 3-on-1 ensues, with Nurse again the last man back.
Article content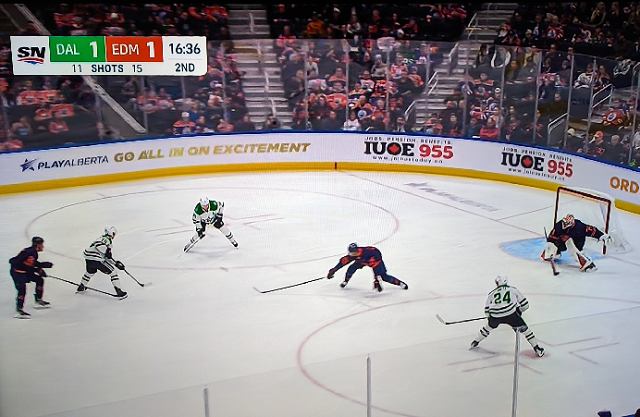 With 3 guys to cover, Nurse is unable to contain the pass, which Roope Hintz puts on the tape of Joe Pavelski. To nobody's surprise, the career 450-goal scorer buries a one-timer just inside the post.
Goal #4
After a Dallas powerplay goal scored in part due to a fortunate bounce, the Stars produce the eventual game-winner early in the third on this play.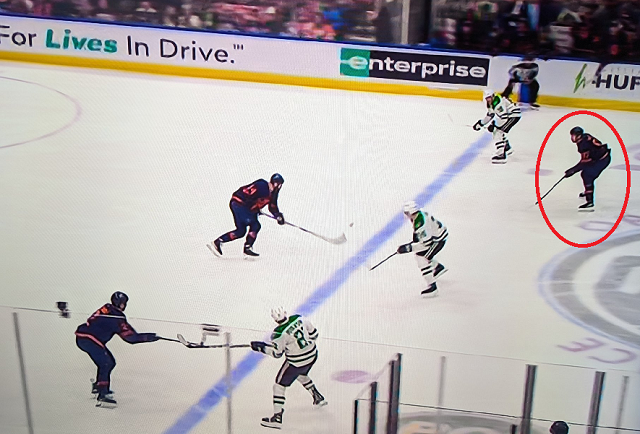 Again, the Stars have broken out with the puck after a failed Oilers attack punctuated by a whiffed Leon Draisaitl shot from the slot. This time it's a 3-on-2, though at first Connor McDavid (circled) seems well-positioned to overtake the ancient Pavelski at top of frame. But for some reason, McDavid stops moving his feet between centre and the Oilers blueline, and is only able to watch from behind the play as Jason Robertson finds Pavelski with a cross-seam pass that just eludes Mattias Ekholm.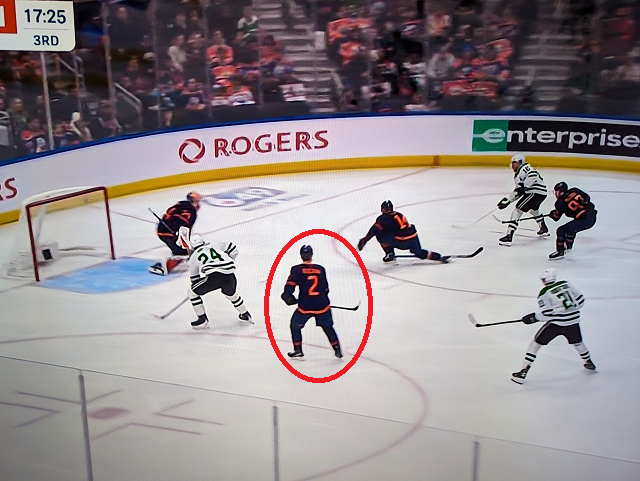 A second later, McDavid has re-engaged, but too late to prevent a cross-seam pass by Pavelski to Hintz, the puck getting past Ekholm for a second time in rapid succession. Meanwhile, his defence partner Evan Bouchard (circled) has dis-engaged and watches from behind the play as Hintz taps the puck into the proverbial yawning cage.
Article content
To recap
Examples here of a bad pinch, a brutal turnover, another terrible line change in what has become an epidemic of late, and some extremely passive coverage. The results? 3 Dallas goals, all scored off the rush, just enough to secure the visitors the regulation win.
The Oilers dominated much of the rest of the game, but didn't get any freebies, nor did they execute their chances with the cold-blooded precision that the Stars showed on the 3 plays highlighted above. And that was the difference. Worst of all, it happened on a day the Oilers had reportedly held a team meeting held specifically to address how dangerous the Stars were on the rush. Here's an idea: next time, don't just talk about it.
On the season, again by our analysis at the Cult of Hockey, the Oilers have allowed a whopping 16 (sixteen) goals off the rush through 9 games, while managing just 6 of their own. That has to change, and at both ends of the ice, if the locals intend to compete for a playoff berth, never mind the Stanley Cup.
One last takeaway
With the Oilers dead and buried down 4-1 down in the third, a late comeback was spurred by none other than Sam Gagner, who scored not once but twice to cut the margin to 4-3. Playing an inspired "homecoming" game, Gagner fired 5 shots on net, landed 3 hits, and even went 5/6=83% on the faceoff dot. By our counts he was directly involved in no fewer than 7 Grade A shots by the Oilers. His willingness to drive the blue paint stood out on this night, as did his palpable excitement and enthusiasm to be wearing the Oil drop again. As the clock wound down, he seemed about the likeliest man to produce or at least help create the desperately-needed tying goal.
Article content
But this is where head coach Jay Woodcroft lost the plot. With 2 minutes to play he loaded up with the 5 regulars from the first powerplay unit, then had Evander Kane join the group when  Skinner got pulled. Kane was certainly deserving of that chance, having played an excellent game which included contributions of some description on all 3 Oilers goals. But those on the powerplay had largely had an off game; the man-advantage unit itself posted a dismal 0-for-4, with its best chances produced (for a change) by the second unit, which featured Gagner and Kane.
But with the game on the line and a possible storybook finish in the offing, Gagner never got a sniff. Woodcroft's chosen sextet played the entirety of those last 2 minutes, and not surprisingly given the way the rest of the game had gone, couldn't find the needed goal. Lots of zone time, but shots missed the target or were blocked.
I brought up this omission in our post-game podcast (embedded within this post) as one of my "bad things". Turned out it was far from a unique observation; many other observers, fans and pundits were asking the same question. A local reporter even brought it up directly to Woodcroft in the post-game presser; the coach's answer was that Gagner was "next up" but there were no whistles in that last 2:05. Never mind that Dallas used 10 different players over that same span, 3 of whom played 2 different shifts, in the same interval.
Article content
The coach's manpower choices certainly had long-term merit; the chosen ones are Edmonton's 6 best offensive players. But they weren't playing like it on this night.
The takeaway from this admittedly great distance is that the coach of all people didn't seize the moment, and in the process delivered 2 diametrically opposed messages to his troops: that the stars will get the high-leverage minutes whether they are playing well or not, and that the role players will not get those minutes no matter how well they might be playing. At night's end Draisaitl had played 25:56, McDavid 25:35, Hyman 22:33, all of them with nothing to show for it and just 7 contributions to Grade A shots among them. Gagner had produced a similar number on his lonesome, and in half the ice time (13:00). But he remained nailed to the bench.
These are dangerous times for Jay Woodcroft. When he arrived in Edmonton he found immediate success (and praise from within the locker room) by finding a meaningful role for everybody. But today his team is badly underperforming at 2-6-1 and playing error-ridden hockey. Lots of things have gone wrong (injuries for one) which are beyond his control. But ice time is something he very much does control, and if he's not able or willing to adapt to the circumstances du jour and assign that ice time on merit, he runs the risk of losing his players.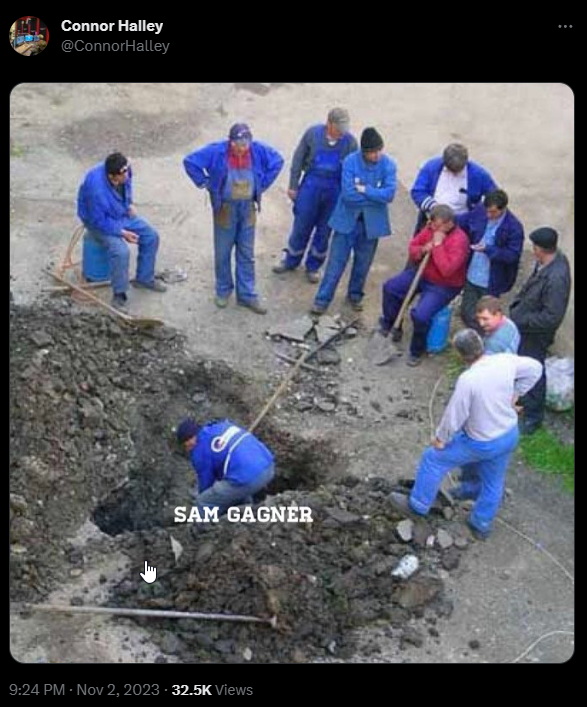 Recently at the Cult of Hockey
STAPLES: Raphael Lavoie finally gets the call
McCURDY: Philip Broberg gets sent out as Oilers deal with injuries up front
LEAVINS: Player grades from yet another head-scratching home loss
STAPLES: The dependence of the Oilers on Connor McDavid comes into focus
McCURDY: Sam Gagner re-joins the Edmonton Oilers