Article content
That One Big Problem that is killing the Edmonton Oilers? It's fixable. Definitely fixable. It's mission possible.
The Oilers aren't playing that well overall just now, but they're not as terrible as their one win in six games would suggest, and they'll turn it around if they collectively figure out how to fix their one big problem.
Article content
Why do I say they haven't been so bad?
Article content
Edmonton has manufactured 84 Grade A shots this year and given up 82. The Oil are trading Grade A shots with their opponents, the Oilers putting up 14.2 Grade A shots per game, their opponents 14.0.
That's not nearly as good as any other more lengthy segment of Jay Woodcroft's time coaching the Oilers. In his first year, when he took over from Dave Tippett and coached 38 games, the Oilers put up 15.0 Grade A shots per game and gave up just 12.9, a +2.1 Grade A shots differential.
Last season, the Oilers were even better, with a +2.9 Grade A shots per game differential, 15.0 to 12.1. In the playoffs, the Oilers also did well overall, with a +2.8 Grade A shots differential in their 12 games.
So Woodcroft's Oilers are sputtering a bit when it comes to creating Grade A shots and they are giving up more than in the past, all this happening in a season when they vowed to improve their defence, bringing in new defensive systems and proclaiming that they had a new attitude to defensive play.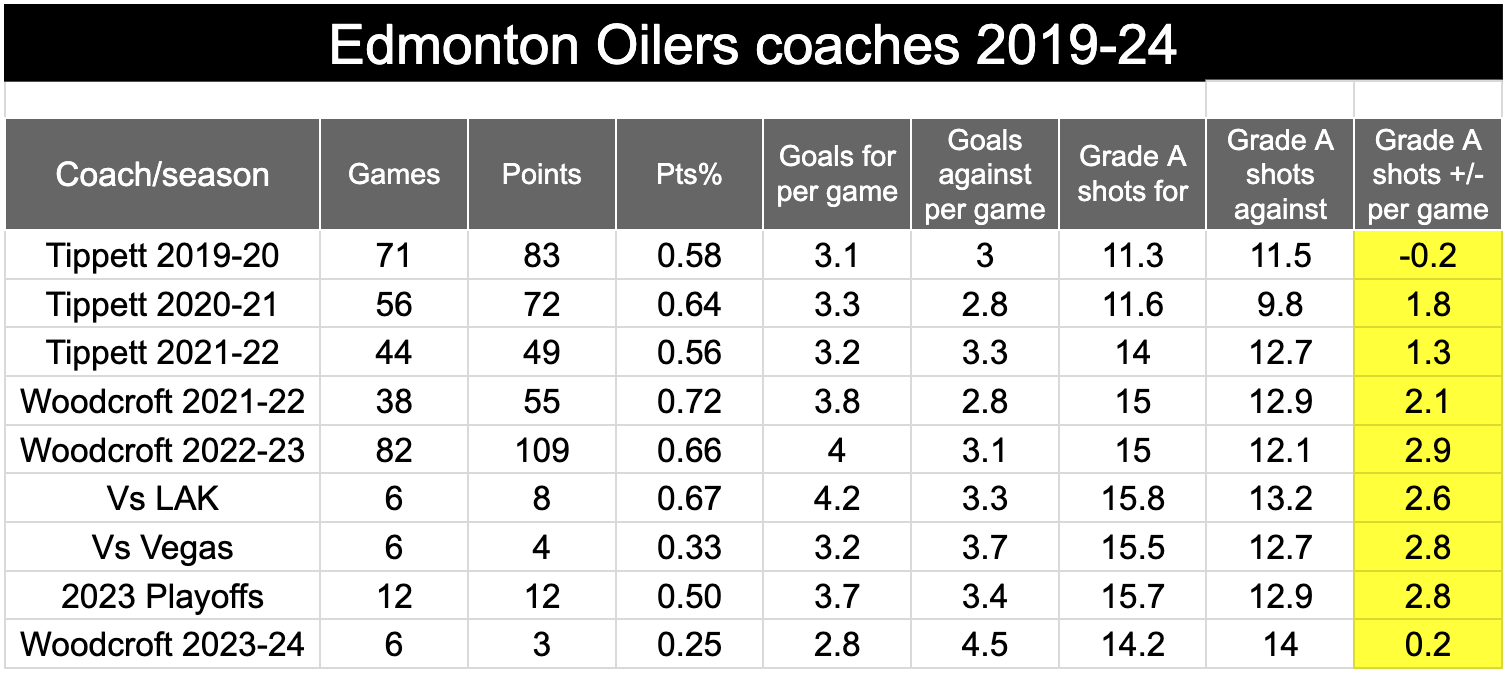 That One Big Problem
But, evidently, not everything is going right so far on the defensive front. They're giving up more Grade A shots than last year and their goals against, 4.5 per game, is atrocious, second worst in the league to the Carolina Hurricanes (It's interesting that the two teams most often mentioned this pre-season as likely Stanley Cup finalists just now can't keep the puck out of the net).
Article content
If we dig a little deeper into how those Grade A shots have come about, one thing stands out, Edmonton's one big problem.
They're giving up about as many dangerous shots and goals off of the forecheck, the cycle and faceoffs as their opponents are getting against the Oilers. Those things haven't been the problem, in general, though the Minnesota Wild did shred Edmonton's new zone defence last game, with impatient Oilers d-men ranging way out of position and confused Oilers forwards struggling to master their positioning in the zone.
Overall, though, cycle plays, forecheck plays and faceoffs have been a saw-off, with the Oilers and their opponents both giving about as much as they're getting, and no side with a clear advantage. The zone is working well enough. It will only improve as players become more familiar with it.
What's killing the Oilers then?
Rush plays.
Edmonton has had as many Grade A shots off rush plays as their opponents, 31 for Edmonton, 30 for their opponents. But Edmonton's opponents have had by far the more dangerous of shots off the rush.
Grade A shots go in about 25 per cent of the time, but a subset of the most dangerous Grade A shots, which we call 5-alarm shots, go in 33 per cent of the time.
Article content
When we look more closely at rush plays for and against, we see Edmonton has just 13 5-alarm shots and just four goals off rush plays, while their opponents have had 19 5-alarm shots and an astonishing 11 goals off the rush.
I haven't seen the Oilers goalies stealing many games but they haven't been cratering, either, so I attribute those 11 goals against on rush plays to some mighty good and lucky shooting by opposing players, but also to colossal mistakes by Oilers players, mainly mental errors, that are killing the team just now.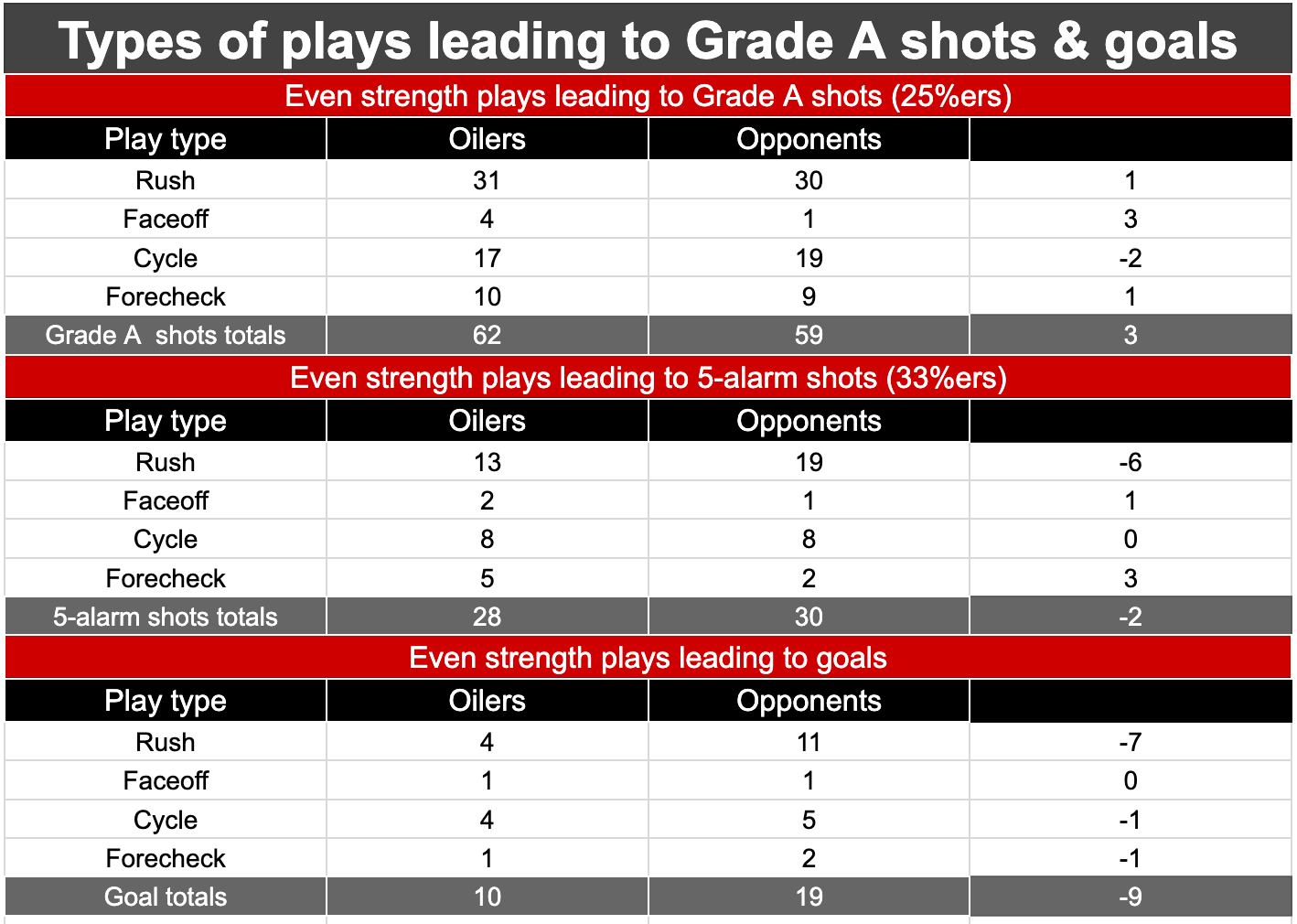 How to solve the One Big Problem
Let's dig just a bit deeper into Edmonton's One Big Problem and how it might well be solved at the individual level.
At the Cult of Hockey, we track all Grade A shots for and against the Oilers, conducting video review to see which players made major contributions to Grade A shots for and which players made major mistakes on Grade A shots against. This year, we're also tracking how those Grade A shots developed, whether they came off the rush, the forecheck, a faceoff or a cycle. We're using the system developed by analytics expert Cam Charron to classify Grade A shots, the same system as hockey writer Sid is using an Oilers Nation in his own excellent stats project this year.
Article content
Our works digs into each crucial play at the individual level, and what we found is that numerous Edmonton d-men have been making major mental errors leading to the 5-alarm shots and goals against off the rush. This will come as no surprise to close watchers of the team. We've all been noticing it. We've all been complaining about it. Sid has written about it at Oilers Nation.
I again just now went over video of the 19 5-alarm shots and 11 goals off the rush against the Oilers. What I found is that two d-men, in particular, Brett Kulak and Evan Bouchard, have so far struggled in this regard, though the sample size is small and it's crucial not to make too much out of any single player's failures at this point. They're all capable of turning a corner, cutting down on these mental errors and playing far more sound defence against the rush, and that includes Kulak and Bouchard, who both have played consistently strong defensive hockey the past two playoffs seasons.
What's kind of mental mistakes do I mean here?
They have mainly been slow reads, Oilers d-men failing to recognize a forward is speeding on by, the d-men thus caught slow and stationary as that player takes a pass and breaks in.
Article content
We've also seen d-men getting too aggressive in the o-zone and n-zone on pinches, moving up to try to thwart a rush in its early stages, but getting beat and causing a jailbreak of an odd-man rush against the Oilers.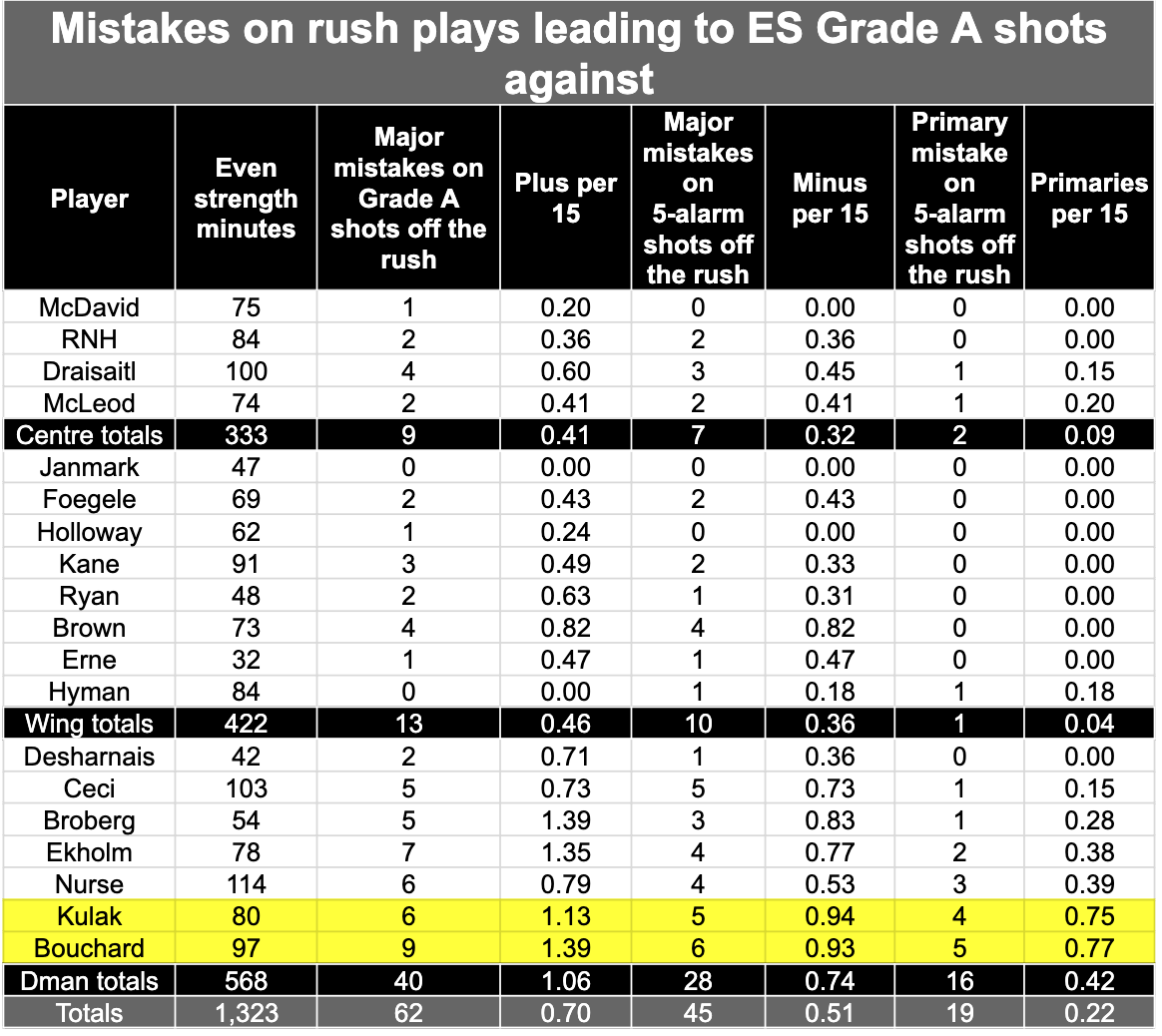 The good news? These are mental errors. On only a few occasions have Oilers d-men been too slow to contain an incoming attacker. The problem isn't with slow feet, it's been due to a lack of caution and awareness, a lack of putting stopping the rush ahead of other considerations, of making sure that no one is going to be able to break into the Edmonton end and cause havoc.
It seems to me that with the right training and focus — which the astute Woodcroft is eminently capable of providing — this problem is going to fade away somewhat.
Of course, Oilers d-men will still make mental errors and will continue to be beat on the rush. But they've got to focus on this issue and concentrate on containment. If they do so, Edmonton will stop giving up so many more 5-alarm shots and goals against off the rush than its opponents give up to them.
With Edmonton's attacking prowess, the Oil should eventually gain an advantage in this area.
Of course, that's just me saying it. The players have to do it on the ice. That is their assignment, should they choose to accept it. But it's definitely not Mission Impossible.
They can get it done. I suspect they will.
Staples on politics
An independent Quebec would be good for Quebec and Canada, great for Alberta

At the Cult of Hockey
LEAVINS: Game grades in tough loss to the Wild of Minnesota